Lawrence M. Schultz
Email: Lschultz@burkeandschultz.com
Martinsburg Accident Attorney Lawrence M. Schultz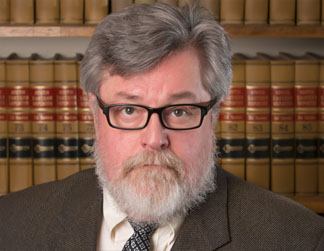 Martinsburg accident attorney Lawrence M. "Larry" Schultz is a founding partner of Burke, Schultz, Harman & Jenkinson, a West Virginia law firm representing personal injury victims in the Eastern Panhandle and throughout the state. Larry Schultz concentrates much of his practice on auto accidents, which may involve cars, trucks, or motorcycles, among other vehicles as well as nursing home abuse cases other serious injury and wrongful death matters. He focuses his experience and skills on helping clients recover compensation for injuries caused by the negligence of others.
A Martinsburg Accident Attorney Advocating for Clients and Community
As a personal injury and wrongful death attorney with more than 35 years of service, Larry Schultz has helped many individuals and families recover compensation for losses that could or should have been prevented. Winning the case for a client is reward enough, but there are also times when a case creates change in the community by causing a government or private entity to reconsider its policies or procedures. Those cases are especially satisfying for Mr. Schultz because securing justice for one person also initiates change that benefits all.
A West Virginia Accident Attorney for Personal Injury and Wrongful Death Cases
The range of injuries that can be sustained in auto or other accidents is quite broad. Even minor injuries can impact a person's ability to work and live as they did before the accident, and major injuries can have lifelong consequences that are expensive to address. If someone else is at fault for your injury, the law requires them to compensate you for your injuries and losses. Likewise, if a person is killed in an accident and another party is at fault, the individual's family has a right to recover damages.
These cases require quick action to gather and preserve evidence, knowledge of the local community and courts to efficiently file and move the claim forward, and the dedication of an experienced accident attorney who will not stop pushing until the client is made whole. With strong investigative skills and a commitment to justice, West Virginia accident attorney Larry Schultz brings to the table the traits and talents that personal injury and wrongful death clients need.
In Demand as a Nursing Home Abuse Lawyer in WV
Injuries to a loved one has been injured at the hands of nursing home caretakers are appalling and demand action to hold the responsible parties accountable. As a nursing home abuse attorney Larry Schultz helps you fight to hold the responsible party or parties accountable when a loved one is injured in a care facility. Whether the injuries arose from abusive or negligent staff or at the hands of another resident, Larry Schultz will help collect the evidence necessary to establish who is responsible and fight for compensation for your loved one.
Digging Deep from the Start
Before beginning his career in law, Larry Schultz was a joint ventures auditor for Marathon Oil Company. In this position, he gained investigative skills that he has honed over the years in his practice as a personal injury and auto accident lawyer in Martinsburg, WV.
Mr. Schultz is a graduate of the West Virginia University College of Law, where he was awarded the Patrick Duffy Koontz Scholarship Award. He is a member of The Order of Barristers, a national legal honor society, and has served on the Board of Law Examiners of West Virginia, a seven-member board appointed by the West Virginia Supreme Court of Appeals to evaluate candidates for admission to the West Virginia bar.
As a volunteer facilitator and board member of the Community Alternatives to Violence program, Schultz has helped men and women who were convicted of crimes involving domestic violence. The program provides education and support to help these individuals recognize and work through their past issues, and it has been successful in reducing recidivism rates for participants.
In 2018, Mr. Schultz was selected as a West Virginia Bar Foundation Fellow. This honor is bestowed upon attorneys whose careers demonstrate honorable and outstanding service to their profession and community.
A Martinsburg Accident Attorney Who Puts in the Work
When he is not investigating an accident scene or fighting for his clients in court, Mr. Schultz is an avid outdoorsman who enjoys hunting, fishing, and hiking. He also spends a good deal of time processing firewood, cutting and chopping around eight full cords of wood each year at his home in Berkeley County.
People who are suffering due to an injury or loss of a loved one do not need a lawyer in an expensive suit who talks like a law school professor; they need an attorney who speaks simply and presents their case persuasively to the judge or jury. Martinsburg accident attorney Larry Schultz at Burke, Schultz, Harman & Jenkinson is that lawyer. To schedule a consultation with Mr. Schultz to discuss your personal injury or wrongful death case, call 304-263-0900 (toll-free 800-903-090) or complete this online contact form.
EDUCATION:
ADMISSIONS:
PROFESSIONAL ASSOCIATIONS/MEMBERSHIPS:
Eastern Panhandle Bar Association
Board of Law Examiners of West Virginia