WV Construction Accident Attorney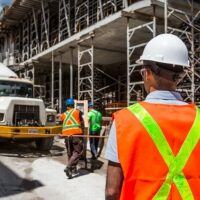 Workers on construction sites pour their sweat and blood into what they do, putting at risk their most valuable possession—their physical health. Work on a construction site comes with inherent dangers, many of which a responsible employer, site manager, or sub-contractor can help mitigate through the implementation of safe work procedures, well-maintained tools, and adequate safety equipment and standards. When worker safety isn't a priority, major injuries can result. When that happens and your case falls outside workers' compensation, a WV construction accident attorney can step in to help.
A WV Construction Accident Attorney Explains Damages Available Outside of Workers' Compensation
When you are injured on a construction job, you may be entitled to damages, compensation for your injuries and the resulting financial consequences. An injured worker can often receive workers' compensation benefits. However, in some situations, may be entitled to damages directly from their employer or another party for liability outside of workers' compensation.
When you're not eligible for workers' compensation benefits or your construction injury resulted from intentional conduct, the WV construction accident attorneys at Burke, Schultz, Harman & Jenkinson can help you successfully recover the compensation and benefits you deserve.
Common Injuries Seen by a WV Construction Accident Attorney
Even for highly experienced and skilled professionals, construction sites can be very dangerous. In 2020, more than 1,000 construction and excavation workers suffered fatal injuries on the job. While there is no one way these injuries and deaths occur, the common causes seen by West Virginia construction accident lawyers involve:
Given the severity of these accidents, it is no surprise the injuries caused are equally catastrophic. Injuries commonly seen after a construction accident include:
Amputations
Back injuries
Broken bones
Burns
Crushing, squeezing, or pinching of body parts
Death
Vision and hearing loss
If your injuries are not covered by workers' compensation laws, you may be able to recover liability damages from the person, entity, or other party responsible. A Burke, Schultz, Harman & Jenkinson construction accident attorney in Martinsburg, WV will work with you to fight for the damages you deserve.
When Workers' Compensation Is Not the Only Option
There are times when construction accident injuries allow the employee to recover more than workers' compensation benefits. Workers may only file a lawsuit against their employer for an injury sustained on the job if the employer willfully created the situation that led to the injury, a doctrine known as deliberate intent and codified at WV Code § 23-4-2.
While additional successful claims against an employer are somewhat uncommon, there are more often cases in which another party may be found liable for an accident on a worksite. For example, if a contractor or sub-contractor constructed a scaffold improperly or with poorly-maintained materials and a worker fell from the scaffolding as a result of negligence in the materials or construction, that worker may have what's known as a third-party claim against the scaffolding contractor.
Similarly, providers or manufacturers of equipment may be liable under a product liability claim if your injury was the result of an equipment malfunction due to a product defect or lack of maintenance. A seasoned West Virginia construction accident lawyer can help you determine whether you have a viable third-party claim of this nature and help you pursue that claim.
Contact Your Construction Accident Attorney in Martinsburg, WV
To build the best case for your construction injury claim, contact an experienced WV construction accident attorney for help as soon as possible. Take advantage of your free case consultation with Burke, Schultz, Harman & Jenkinson to discuss the damages you are entitled to recover. Contact one of our West Virginia construction accident lawyers today by calling 304-263-0900 or fill out this contact form.