West Virginia Pedestrian Accident Lawyer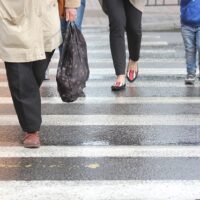 Commuting on foot can be a great way to save on gas while also providing excellent exercise. Sadly, pedestrians aren't always safe on the road and run the risk of suffering major injuries at the hands of reckless or inattentive drivers. Pedestrian accidents can leave victims with costly medical expenses; pain and suffering; and a permanent, negative effect on their quality of life. If you've been the victim of a pedestrian accident in West Virginia (WV), contact a West Virginia pedestrian accident lawyer at Burke, Schultz, Harman & Jenkinson as soon as possible for a free consultation on your case.
A West Virginia Pedestrian Accident Lawyer Can Help You Recover
Victims of pedestrian accidents deserve compensation for their serious injuries. Pedestrian accidents can result in catastrophic injuries that require months or longer to recover. In some cases, the injured party may be permanently injured or even killed. An experienced WV pedestrian injury attorney can help victims seek compensation that helps them recover from their injuries. In cases of catastrophic injury or death, a WV pedestrian injury attorney can help families get the damages they need to move forward after these tragic events.
Pedestrian Accidents Are on the Rise
Safety experts have noticed a disturbing trend: after decades of falling accident fatality rates on US roads, the number of deaths occurring each year in traffic accidents has been rising steadily in recent years. The rate of fatalities among pedestrians has risen higher than among any other group. In fact, US pedestrian fatalities have recently reached the highest level in 40 years.
Many safety researchers believe that the increase in pedestrian deaths can be blamed in large part on the rise in distracted driving. As drivers become increasingly likely to only glance at the road between reading texts or social media posts, they miss smaller objects in their field of vision, such as people on foot.
Aside from distracted driving, other common causes of pedestrian injury accidents include poor road conditions and drivers turning left without first checking for pedestrians in the crosswalk. Lastly, alcohol is involved in almost half of pedestrian crashes that result in death.
The increase in pedestrian accidents translates to a larger number of people needing compensation for their injuries, lost wages, and other losses. Working with an experienced pedestrian accident lawyer is a great step in maximizing the damages you can recover.
Pedestrian Accidents Can Cause Serious Injuries
Pedestrians are extremely vulnerable to injury in a vehicular accident. They lack the robust protection offered by vehicles, or even the protections offered by a helmet to a cyclist involved in a crash. Pedestrian accident injuries often leave victims in need of major medical attention, multiple surgeries, or even an in-home caregiver. These victims often need to take time off work to make a full recovery, resulting in the additional financial hit of lost wages. Other common pedestrian accident injuries include:
Soft tissue injuries
Fractured ribs
Concussions
These injuries can take months or even longer to recover from and require the full attention of the victim as well as support from family. Securing a WV pedestrian injury attorney gives victims the best chance of recovering compensation that will cover their expenses.
Get Help from an Experienced West Virginia Pedestrian Accident Lawyer
You and your loved ones should always follow safe pedestrian practices. However, not all pedestrian-involved accidents can be avoided. If you have been involved in a pedestrian accident, legal experience matters. Insurance companies and the driver's representatives will likely try to negotiate a low settlement with the victim every step of the way. An experienced WV pedestrian accident lawyer can help negotiate with interested parties to arrive at a more favorable settlement and even go to court if needed.
Call Your West Virginia Pedestrian Accident Lawyer Today
Recovering compensation that adequately covers the recovery expenses takes time, resources, experience, and compassion. That's exactly what you'll find in the WV pedestrian accident lawyers at Burke, Schultz, Harman & Jenkinson. If you or a loved one has been the victim of a pedestrian accident, get in touch with an experienced West Virginia pedestrian accident lawyer by calling 304-263-0900 or completing this online contact form.