D. Michael Burke
Email: Dmburke@burkeandschultz.com
WV Personal Injury Lawyer Michael Burke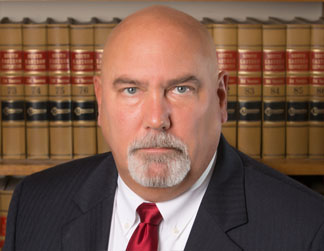 D. Michael Burke is a WV personal injury lawyer and the founding partner of Burke, Schultz, Harman & Jenkinson. He has been serving people injured due to the negligence or wrongful acts of others in the Eastern Panhandle of West Virginia for more than 40 years, making those responsible for injuring others accept that responsibility.
Committed to seeking justice for his clients and recovering fair compensation for their injuries and losses, Mr. Burke has spent his entire legal career representing people against corporations and insurance companies, making sure that those responsible for causing injuries and deaths accept that responsibility and pay what is fair to those who were harmed.
A WV Personal Injury Lawyer Committed To His Clients
Mr. Burke is determined to protect his clients' rights to recover damages. As a Martinsburg personal injury attorney, he represents injured individuals and the families of those killed in all types of automobile collisions, truck accidents, and motorcycle wrecks. He also handles other cases resulting in wrongful death and injury, including medical malpractice and dog bites, forcing those at fault—and their insurance companies—to pay. With his experience in and out of the courtroom, Michael Burke helps his clients receive the damages they deserve.
Michael Burke Has the Extensive Trial and Appeal Experience You Need
Michael Burke's legal experience includes extensive trial work, demonstrated by dozens of cases tried to verdict during his four decades in practice. His exceptional ability in the courtroom is exemplified by the tens of millions of dollars he has recovered for his clients.
Mr. Burke also has extensive experience in appellate court. As a Martinsburg personal injury attorney, Mr. Burke has been involved in more than 20 appellate cases, advocating for clients before the Supreme Court of Appeals of West Virginia more than 50 times, resulting in 22 printed opinions.
A WV Personal Injury Lawyer Engaged in the Legal Community
Serving clients in Berkeley, Jefferson, and Morgan counties and beyond, Michael Burke is an attorney who represents clients in state and federal cases. Beyond the courtroom, Michael Burke is involved with several professional legal associations. As an advocate for the right to trial, Mr. Burke found a natural fit as a member of the West Virginia Association for Justice (WVAJ) and the American Association for Justice (AAJ). He also contributes his knowledge to the legal community through his membership in the Southern Trial Lawyers Association, where he learns from and teaches other attorneys the skills necessary to become a successful personal injury lawyer.
A WV Personal Injury Lawyer with Mountain State Roots
A native of West Virginia, Michael Burke attended West Virginia University (WVU) and was awarded a bachelor of arts degree in biology in 1976. He received his law degree (JD) in 1979 from the WVU College of Law. While at WVU, Mr. Burke was elected Vice President of the Student Body (1975 to 1976). In law school, he was President of the Student Trial Lawyers Association (STLA), now known as the Marlyn E. Lugar Trial Association, and a member of Phi Delta Phi legal fraternity.
Outside of work, Mr. Burke is an avid sports fan and a strong supporter of the West Virginia University Mountaineers. He is also a fan of movies, with a particular interest in old westerns.
In your personal injury matter, you're in good hands with Michael Burke, a WV personal injury lawyer who stands ready to fight for you and your family. To learn more about our founding partner, Michael Burke, lawyer at Burke, Schultz, Harman & Jenkinson, complete our online contact form or call us at 800-903-0901 or 304-263-0900.
PROFESSIONAL ASSOCIATIONS/MEMBERSHIPS:
Eastern Panhandle Bar Association
ADMISSIONS: