Ronald M. Harman
Email: Rharman@burkeandschultz.com
WV Serious Injury and Wrongful Death Lawyer Ronald M. Harman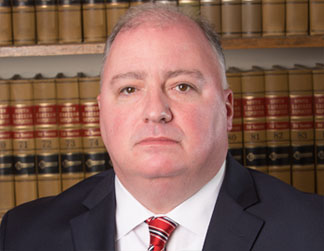 WV serious injury and wrongful death lawyer attorney Ronald M. Harman practices law in his hometown of Martinsburg as a partner in the West Virginia (WV) personal injury law firm of Burke, Schultz, Harman & Jenkinson. As a WV personal injury lawyer, Mr. Harman represents people throughout the Eastern Panhandle who are injured by the negligence or misconduct of another, from automobile accidents and work-related injuries to dog bites and injuries occurring on dangerous or unsafe premises. Mr. Harman also helps people who have become disabled obtain Social Security disability benefits.
A WV Serious Injury and Wrongful Death Lawyer Committed to His Community
Having spent most of his life in the Martinsburg area, Mr. Harman takes his role in protecting those in his community seriously. Growing up in the Eastern Panhandle of WV, Mr. Harman became a Martinsburg personal injury attorney to help his clients recover the damages they deserve and need to recover from serious injuries.
In addition to serious injuries, Mr. Harman represents families who have lost a loved one as a WV wrongful death attorney. Mr. Harman understands that you can never replace a loved one, but he works to help families move forward by recovering damages to help with the financial and personal void left by a loved one's wrongful death. As a WV wrongful death lawyer, Mr. Harman understands how to balance the family's needs of grieving their loved one with aggressive representation that secures appropriate compensation.
Ronald M. Harman's Path to Becoming a WV Serious Injury and Wrongful Death Lawyer
Mr. Harman received his undergraduate degree at West Virginia University (WVU), where he belonged to the academic honor societies Phi Beta Kappa and Phi Kappa Phi. After graduating, Mr. Harman decided to stay close to home and received his law degree from the WVU College of Law.
A desire for continuing professional development and networking has led Mr. Harman to be involved in several professional organizations. As a staunch believer in the right to trial and access to a jury, for example, Mr. Harman continues his push for justice as a member of the West Virginia Association for Justice (WVAJ) and the American Association for Justice (AAJ).
A WV Personal Injury Lawyer Who Doesn't Stop Fighting
Throughout his time as an attorney, Ronald M. Harman earned his reputation as someone who goes to great lengths to represent his clients. With strong investigative skills, Mr. Harman does not stop until he finds the party or parties responsible for his client's injury. His ability as an attorney and investigator was on display when he, along with attorney and partner Larry Schultz, recovered one of the largest jury verdicts in Berkeley County history in a wrongful death case.
As an attorney, there are times you must dig deeper and find ways to maximize the recovery for your client. Whether searching for evidence or finding new parties to hold liable, Mr. Harman exhausts every option to help his clients. Mr. Harman is willing to put in the time to ensure his client recovers the damages they deserve.
Contact WV Serious Injury and Wrongful Death Lawyer Ronald M. Harman for Top Tier Representation
If you need a WV serious injury and wrongful death lawyer, help with a personal injury case, or an advocate for obtaining Social Security disability benefits, contact WV personal injury lawyer Ronald M. Harman. In addition to his legal skills, Mr. Harman understands his clients are going through a challenging time and is a person they can turn to for guidance. For information about Mr. Harman or his firm, Burke, Schultz, Harman & Jenkinson, contact him at 800-903-0901 or 304-263-0900, or fill out this online contact form.
EDUCATION:
ADMISSIONS:
PROFESSIONAL ASSOCIATIONS/MEMBERSHIPS:
Eastern Panhandle Bar Association