Logan Burke
Email: Lburke@burkeandschultz.com
WV Personal Injury Attorney Logan G. Burke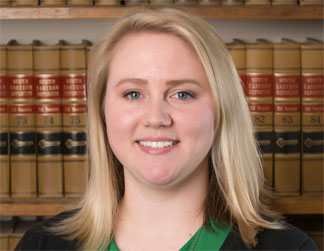 Logan G. Burke provides legal counsel and representation to clients in Martinsburg, surrounding areas, and throughout West Virginia (WV). Since joining Burke, Schultz, Harman & Jenkinson as a WV personal injury attorney, Ms. Burke has focused her practice on personal injury claims. She provides invaluable guidance to families dealing with the aftermath of an accident when are trying to return to normal or, in some cases, learning to navigate their new normal.
A WV Personal Injury Attorney for Auto Accident Cases and More
As a West Virginia personal injury lawyer, Ms. Burke focuses on helping clients in West Virginia auto accident cases get the compensation they need to meet the challenges of recovering from a serious injury. In addition to auto accident cases, Ms. Burke represents families in wrongful death actions, helping them move forward with their lives after the loss of a loved one due to the negligence or wrongful actions of someone else, such as another driver or an employer.
Logan G. Burke, WV Personal Injury Lawyer: Education and Credentials
Ms. Burke received her undergraduate degree from the University of Virginia and later earned her Juris Doctor degree from the West Virginia University (WVU) College of Law. While in law school, she served as class representative for the WVU Student Bar Association, Treasurer of the Tax Law Society, and was a member of Public Interest Advocates.
Ms. Burke was Senior Research Editor of the West Virginia Law Review and was published in the law review with a Student Note on the West Virginia's workers' compensation system. She also received the CALI Award (given to the student with the highest grade in the class) in State and Local Taxation and worked in the school's Entrepreneurship and Innovation Law Clinic, where she was a student attorney.
Logan G. Burke: A West Virginia Native
When a senior in college, Ms. Burke was named the 75th Queen Silvia of the Mountain State Forest Festival, the state's longest-running festival, which is held in Randolph County in Elkins. She continues to serve as a member of the Board of Directors of the Eastern Panhandle Empowerment Center (formerly Shenandoah Women's Center) and the Eastern Panhandle Bar Charitable Foundation, Inc. When the Martinsburg personal injury attorney is not working for her clients or the Mountain State, Ms. Burke loves to try new recipes and spend time with her husband and gaggle of dogs.
Contact WV Personal Injury Attorney Logan Burke for Exemplary and Robust Representation
If you need a WV personal injury attorney, Logan G. Burke is ready to assist you. For more information about Ms. Burke and Burke, Schultz, Harman & Jenkinson, or to schedule a consultation, complete our online contact form or call us at 800-903-0901 or 304-263-0900.
EDUCATION:
ADMISSIONS:
PROFESSIONAL ASSOCIATIONS/MEMBERSHIPS:
NON-PROFIT COMMUNITY ORGANIZATIONS: