Logan Burke
Email: Lburke@burkeandschultz.com
Martinsburg Personal Injury and Estate Planning Lawyer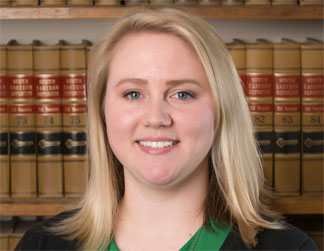 Logan Burke is an attorney at Burke, Schultz, Harman & Jenkinson concentrating in the areas of personal injury and estate planning. Ms. Burke's personal injury practice focuses on helping victims of West Virginia auto accidents get the compensation they need to deal with the challenges of recovering from a serious injury, as well as representing families in wrongful death actions to help them move forward with their lives after the loss of a loved one due to the negligence of another driver, nursing home staff, doctor, hospital or employer. In the area of estate planning, she strives to create a comprehensive estate plan by drafting the right combination of wills, trusts and advance directives to ensure her clients are taken care during their lifetimes and that their desires for their estate are carried out after they are gone.
Ms. Burke received her undergraduate degree from the University of Virginia and later earned her juris doctor law degree from the West Virginia University College of Law. While in law school, she served as Class Representative for the Student Bar Association, Treasurer of the Tax Law Society, and a member of Public Interest Advocates. Ms. Burke was Senior Research Editor of the West Virginia Law Review and was published in the law review with a Student Note on West Virginia's workers' compensation system. She also received the CALI Award (given to the student with the highest grade in the class) in State and Local Taxation as well as the school's Entrepreneurship and Innovation Law Clinic, where she was Student-Attorney.
Ms. Burke currently serves on the Board of Directors of Eastern Panhandle Empowerment Center (formerly Shenandoah Women's Center) and the Eastern Panhandle Bar Charitable Foundation, Inc.
ADMISSIONS:
PROFESSIONAL ASSOCIATIONS/MEMBERSHIPS:
Eastern Panhandle Bar Association
NON-PROFIT COMMUNITY ORGANIZATIONS:
Eastern Panhandle Bar Charitable Foundation, Inc.