Governor Justice Takes Additional Steps to Ensure Safety in Construction Zones Following Wrecks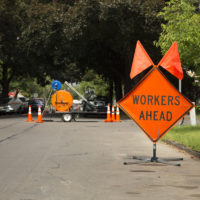 A recent multiple-vehicle car accident led to the death of a motorist on Interstate 64, the latest in a series of fatal traffic accidents occurring in or near construction zones along the Interstate between Putnam and Cabell counties. Read on to learn about the accident and Governor Justice's response, and contact an experienced West Virginia personal injury attorney for advice and assistance after a crash.
Multiple vehicle collision leads to fatality on Interstate 64
Westbound lanes of I-64 were closed for several hours in the early evening on May 1 following the collision of three vehicles near a construction zone. State troopers said that a 38 year old Milton woman was merging before the highway work zone that begins just after the Hurricane exit, when she was rear-ended by another car. A third car was also merging and was struck after the Milton woman's car was hit from behind. The woman was unconscious and trapped in her car when responders arrived, and she died at the scene. Of the people in the three cars, another individual was hurt while two others were not injured.
Governor Justice calls for action to improve safety following a series of fatal wrecks
The death of the Milton woman marks the fourth traffic fatality in recent weeks occurring around the work zones along Interstate 64 between Putnam and Cabell counties.
"We need to do more," Governor Justice said in a press release following the accident. Gov. Justice stated he had "instructed [Transportation] Secretary Smith and [State Police Superintendent Jan] Cahill to immediately look at what steps they can take to make sure we are doing everything we possibly can to make our interstates and work zones safe for all motorists as well as those working on the job sites." Secretary Smith and Colonel Cahill promptly outlined an action plan including adding additional safety warnings and signage, as well as calling in more troopers to monitor the construction zones. In addition to these steps, a review of the project may lead to other efforts such as lowering the speed limit in the construction zone.
Thousands more construction workers are expected to begin work on maintenance and paving along West Virginia's bridges and highways as part of the Governor's "Roads to Prosperity" initiative. State Department of Transportation and Division of Highway officials are reminding drivers to slow down and pay close attention–in particular, by putting down their phones–while driving in or near construction zones.
If you or a loved one has been injured in a traffic accident around one of the construction zones in West Virginia, contact the experienced and effective Martinsburg personal injury lawyers at Burke, Schultz, Harman & Jenkinson for a free case evaluation at 304-263-0900, or (304) LAWYERS.