WV Distracted Driving Accident Lawyer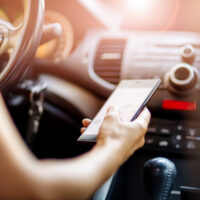 Distracted driving leads to far too many accidents that cause injuries every year in West Virginia (WV) and across the country. If a distracted driver causes you or a loved one to be injured, the law allows you to recover damages from the person at fault.
A WV distracted driving accident lawyer at Burke, Schultz, Harman & Jenkinson has the skill and experience to help prove the distracted driver's fault and get compensation for harm caused to you.
How a WV Distracted Driving Accident Lawyer Can Help You
Hardly a day of driving passes when you don't look to the car next to you to find a driver head-down and typing into a phone. Despite WV Code §17C-14-15, which prohibits handheld phone use in the state of West Virginia, you can still see drivers swerving erratically through lanes of traffic while holding a phone. Even when phones aren't an issue, drivers who are distracted while eating, applying makeup, or even reading a newspaper pose a massive danger to pedestrians, drivers on the road, and others nearby.
Over the past three years, the number of roadway fatalities in the US has risen steadily. With few other explanations available for the increase in traffic deaths, many experts believe that distracted driving is the cause of the increase in fatal car accidents.
Identifying when the at-fault driver in an accident was dangerously distracted before a crash can be challenging, but an experienced WV distracted driving accident attorney can help prove the driver's fault. At Burke, Schultz, Harman & Jenkinson, our skilled attorneys will use evidence such as eyewitnesses to the crash, skid mark patterns, expert accident recreations, and possibly cell phone records to prove the driver was distracted. Once you establish the driver's fault, you are entitled to recover damages for your injuries.
Proving Liability of Distracted Drivers
To prove liability, an injured party must prove the distracted driver acted negligently. The elements necessary to prove negligence include:
Duty to others
Breach of the duty
Causation of injury
Damages
All drivers owe a duty to others to operate their vehicles in a manner that avoids causing harm to others. Unfortunately, drivers often breach this duty by driving dangerously, including eating, talking, or being on the phone while driving. To determine whether a driver's behavior constitutes a breach, contact distracted driving accident lawyers in West Virginia.
Once you establish the defendant's breach, a WV distracted driving attorney can help you prove causation. To establish causation, the attorney will establish that the driver's conduct was the cause of your injuries. As a result, any monetary or physical damages you suffer from the injuries are recoverable.
It is essential to understand the same negligence standard applies to the injured party's conduct. Under WV Code § 55-7-13A, an injured party who contributed to the accident is also apportioned fault and their recovery is reduced in proportion to their responsibility for the accident.
Common Injuries Seen by a WV Distracted Driving Accident Lawyer
While no injury is distinct to vehicle accidents, WV distracted driving law firms handle common injuries related to these cases. Due to distracted driving accidents involving erratic and hazardous driving, the injuries are often severe. The following are injuries attorneys often see:
Regardless of the injury, a distracted driver is responsible for the damages that arise from it when he or she is at fault. WV distracted driving accident law firms can help you recover monetary damages from the defendant for your injuries.
Compensation a WV Distracted Driving Accident Lawyer Can Help You Recover
Getting hit by a distracted driver can leave you injured and potentially without a working vehicle. Your injuries can result in immense pain, the inability to work, and growing medical bills. Fortunately, you have the right to seek monetary damages from the distracted driver.
The first category of damages you can seek is non-economic for your pain and suffering because of your injury. The more severe your injury, the more you can potentially recover. In addition, you can recover when your injury causes your quality of life to be lower than before the accident, including the inability to perform everyday activities.
You can also recover economic damages for your financial losses arising from your injuries. These damages can include lost wages, diminished earning capacity, medical bills, and costs to repair property. To maximize your recovery, contact experienced distracted driving accident lawyers in West Virginia.
Your Distracted Driving Accident Attorneys in WV
Distracted driving results in hundreds of accidents each year and causes injuries in most cases. You are entitled to damages if you suffer an injury because of another driver's negligence in a distracted driving accident. For help holding the defendant responsible, contact a WV distracted driving accident lawyer at Burke, Schultz, Harman & Jenkinson at 304-263-0900 or fill out this online contact form.