West Virginia Motorcycle Injury Lawyer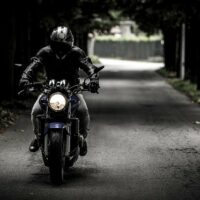 There's no doubt that motorcycle riders are at an increased risk of being involved in an accident and sustaining serious injuries on the road in West Virginia (WV). The WV motorcycle accident attorneys at Burke, Schultz, Harman & Jenkinson have been helping victims of motorcycle accidents in the Eastern Panhandle for more than 30 years. When you need a West Virginia motorcycle injury lawyer, we will work to help you obtain a settlement or verdict that fairly compensates you for your injuries and expenses.
Causes of Accidents and the Role of a West Virginia Motorcycle Injury Lawyer
According to the most recent data from the National Highway and Traffic Safety Administration (NHTSA), motorcyclists are killed in traffic accidents at a rate 28 times higher than occupants and drivers of passenger vehicles. In West Virginia, motorcycle accident fatalities increased by 36 percent between 2019 and 2022. Following strict safety protocols on the road is a must, but even the most careful motorcyclist is vulnerable to the negligence of other drivers. If you or a loved one has been injured in a motorcycle accident, it's important to seek the counsel of experienced motorcycle injury attorneys in West Virginia.
Motorcycle Injuries in WV Caused by Careless Car and Truck Drivers
Because motorcycles are smaller and lighter than other vehicles on the road and because the rider is exposed and vulnerable to a collision, any involvement in an automobile accident is likely to cause serious injuries or even wrongful death to the rider. Unfortunately, the size of a motorcycle can mean they are difficult to see before it is too late to avoid an impact. Car and truck drivers should be mindful of the fact that there are motorcycles on the road and should always check their surroundings before turning or changing lanes.
Motorcycle accidents and motorcycle injuries in WV are not always caused by negligence. Some drivers simply do not respect motorcycles and will drive aggressively or recklessly around the bikes. Others do not appreciate the limitations of a motorcycle's handling. Aggressive, reckless, or careless driving can cause an accident or force a rider off the road or into a dangerous skid. Motorcycle accident attorneys in West Virginia can help riders who have been injured as a result of a collision with a vehicle fight for the compensation they deserve.
Rider Error Also Causes Accidents and Motorcycle Injuries in WV
Motorcycle riders are not always the victims. They can also be responsible for causing accidents due to careless or reckless driving. In addition, riders do not always take the proper precautions to protect themselves on the roads. According to the 2020 NHTSA data, 54 percent of all motorcyclist fatalities in WV were riders who were not wearing helmets.
Bikers must protect themselves by knowing and obeying the rules of the road. Motorcycle riders are required to ride with ordinary care, just as drivers of cars and trucks are required to drive with ordinary care.
Drive Safely and Call Your West Virginia Motorcycle Injury Lawyer
The West Virginia Motorcycle Safety Program works with the Motorcycle Safety Foundation to enhance public awareness of motorcycle safety and provide safety training to riders. We at Burke, Schultz, Harman & Jenkinson encourage bikers to always wear helmets and ride with care. We also urge car and truck drivers to always be aware of their surroundings and the likelihood of motorcycles on the road.
If you or a loved one is injured in a motorcycle accident, it is important to seek representation by skilled WV motorcycle injury attorneys. Injuries sustained in a motorcycle accident can require expensive care and result in a loss of the ability to work. A knowledgeable attorney gives you the best chances of recovering the compensation you or your loved one needs to recover.
Do You Need a West Virginia Motorcycle Injury Lawyer?
Burke, Schultz, Harman & Jenkinson have been leaders in West Virginia personal injury law for more than 30 years. Our WV motorcycle injury attorneys proudly serve Berkeley, Jefferson, and Morgan Counties in WV. For a free consultation with an experienced West Virginia motorcycle injury lawyer, call 304-263-0900 or fill out our online contact form.