West Virginia Social Security Disability Attorney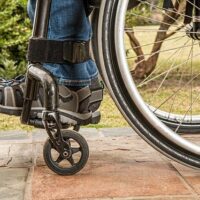 Burke, Schultz, Harman & Jenkinson's West Virginia Social Security disability attorney, Ronald M. Harman, is devoted to helping disabled clients recover the Social Security disability benefits they deserve. Through years as a disability lawyer, a sought-after advocate, helping numerous clients through the claims and appeals process.
Having a qualified West Virginia Social Security disability attorney in your corner vastly improves your chances of obtaining relief. Our firm provides caring and compassionate representation and proudly serves Martinsburg, Berkeley Springs, Charles Town, Hedgesville, Inwood, Shepherdstown, and cities throughout West Virginia (WV).
Why You Need a West Virginia Social Security Disability Attorney
Chances are, you've probably heard of Social Security disability, but you may not be familiar with the specifics of the benefits and how to qualify. The process can be quite complex, so having an experienced attorney in your corner can make a big difference. Burke, Schultz, Harman & Jenkinson will review your circumstances for eligibility and help you apply for, and, if necessary, appeal the denial of Social Security disability benefits.
What Is Social Security Disability?
Social Security disability benefits are cash benefits provided to individuals who can no longer maintain employment due to a disability or impairment. The program provides the Social Security disability benefit to the disabled individual as well as their dependents to replace lost income so that individuals can pay for everyday necessities. Social Security disability is provided under the Social Security Act, which sets out specific requirements for qualifying for the benefits.
Medical Requirements to Qualify for Social Security Disability
Many people believe they are entitled to disability benefits because they are disabled, but that is not always the case. The Social Security Administration (SSA) is the federal agency charged with determining benefits eligibility, and they consider a variety of factors when considering whether an individual qualifies for Social Security disability.
In general, applicants must have a medical condition that prevents them from working for one year or more. The condition must qualify as a recognized disability or impairment that effectively bars gainful employment.
The applicant bears the burden of proof to show eligibility. This usually requires detailed medical records that demonstrate continuing care for a chronic or terminal condition. The disability must be well documented through hospital records, medical history, and evidence proving that working is not possible for the claimant. Factors taken into consideration when determining eligibility include:
Duration of the medical condition or conditions
Current job and compensation
Severity of disability or condition
Evaluation of whether the condition significantly limits the claimant's ability to work
Possibility of doing the same or similar work
Ability to do work-related activities
Results of medical tests and treatment received
Determination of whether the disability is on the SSA's list of qualifying impairments
The SSA considers each case individually, and the evidence supporting the disability or condition must be strong in order to obtain benefits.
Earnings Requirements to Qualify for Benefits
Even if the SSA determines that you do have a qualifying disability, you must still meet the earnings requirement. The earnings requirement is composed of two tests. First, the "recent work" test is based on your age at the time you became disabled. For example, if you became disabled at age 30, you would generally need two years of recent work out of the six-year period ending with disability.
Second, the "duration of work" test determines whether you have worked long enough to qualify for the benefit. Applicants must have at least 20 work "credits" or have paid Social Security taxes for five of the last ten years to be eligible. Calculating these credits and getting the documentation required by the SSA can be difficult to navigate. A West Virginia Social Security disability lawyer can help you navigate through the process and take much of the work off your plate.
Contact a West Virginia Social Security Disability Attorney
If you need a West Virginia Social Security disability attorney, look no further than Burke, Schultz, Harman & Jenkinson. Using the knowledge and skill gained through years of Social Security disability experience, Ron Harman helps qualified applicants get the benefits they have earned. To schedule a consultation to learn how he can help you, reach out today by calling 304-263-0900 or filling out our online contact form.