Staying Safe on West Virginia Roads when Wintry Weather Hits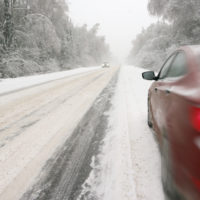 Navigating the roads and highways of West Virginia can be dangerous even when weather conditions are ideal. When the winter brings ice and snow to local roads, however, avoiding a serious car accident can become a major challenge. Below, you'll find some tips on avoiding a major accident while navigating roads beset by winter precipitation. If you have additional questions, or if you've been injured in a winter weather crash in West Virginia, contact an experienced Martinsburg personal injury attorney.
Prepare your car for the elements
It is critical that you keep your car in good condition during winter months. Make sure your tires have sufficient tread and are fully inflated. Check windshield wipers for cracks or breaks. Additionally, make sure your car's heating system is in good shape and will hold out through the winter.
Carry safety equipment in case of emergency
In case you are involved in an accident or vehicle breakdown, make sure you have a way to get help and stay safe while you wait for it to arrive. Keep a warm blanket and some emergency snacks in the car. Carry a flashlight, instant hand warmers, and an ice scraper, as well. Also carry tire chains, and make sure you know how to install them.
Allow longer drive times
Rushing to get where you need to go in dangerously slippery weather can end in tragedy. Rather than having to hurry, simply factor in additional time to get where you need to go so that you don't feel tempted to drive unsafely on icy roads.
Leave more space between yourself and other drivers than usual
Braking distances are much longer when ice or snow is coating the roads. Additionally, you may not see an icy patch on the road until you're on top of it, which could quickly send your vehicle out of control. By leaving more space between yourself and other cars, you'll have time to slow down or regain control before you get dangerously close to another car.
Watch out for bridges and overpasses
Stretches of road that are elevated or disconnected from the ground freeze at a different rate than other roadways. Keep in mind that you're more likely to hit ice on a bridge or overpass than on other roadways and reduce your speed.
If you or someone you love has been injured in a winter weather accident in West Virginia, contact the knowledgeable, aggressive, and effective Martinsburg personal injury lawyers at Burke, Schultz, Harman & Jenkinson for a free case evaluation at 304-263-0900.