Understanding Respondeat Superior in Personal Injury Cases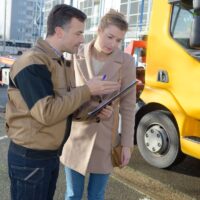 When you're hurt in an accident caused by another's negligence, understanding who is legally responsible to you for your injuries can be more complex than it seems at first. One legal principle that often comes into play is a doctrine known in the law as "Respondeat Superior." This long-established legal concept enables a personal injury victim to go after not just the individual whose negligence caused their injury, but also the individual's employer in certain circumstances. Read on to learn more about this critical concept. If you've been hurt in a car or truck crash or other accident in West Virginia, contact Burke, Schultz, Harman and Jenkinson for a free consultation with a skilled and experienced Martinsburg personal injury lawyer.
What Is Respondeat Superior?
Respondeat Superior is a Latin phrase that translates to "let the master answer." In legal terms, it means that an employer can be held liable for the actions of its employees, provided those actions were performed within the scope of their employment. In simpler terms, if you're injured by someone who was working at the time, the employer might also bear legal responsibility for your injuries.
When Does Respondeat Superior Apply?
To determine whether Respondeat Superior applies to your situation, a few criteria generally need to be met:
Employment Relationship: There must be an employer-employee relationship. Independent contractors usually don't fall under this category.
Scope of Employment: The employee must have been acting within the scope of their employment at the time of the accident.
Foreseeable Consequence: The action taken by the employee that resulted in injury must have been a foreseeable consequence of performing their job duties.
All of these criteria can be more complex than they seem at first blush, and skilled legal help may be necessary to establish whether these criteria exist and whether the doctrine of respondeat superior applies.
Examples of Respondeat Superior in Personal Injury Cases
Negligent Driving
Imagine you are rear-ended by a delivery truck while waiting at a stoplight. The driver was speeding to make a delivery on time. In this case, the delivery company may also be held liable for your injuries, not just the driver.
Medical Malpractice
If a nurse administers the wrong medication and causes harm, the hospital where that nurse works may also be liable under the Respondeat Superior doctrine, given that the nurse was acting within the scope of their employment, even though they made a mistake that they shouldn't have made.
Slip and Fall Accidents
Let's say you slip and fall in a grocery store because an employee neglected to clean up a spill. In this situation, the store could also be held responsible for your injuries under the doctrine of Respondeat Superior.
Limitations and Exceptions
While the principle of Respondeat Superior is widely recognized, there are limitations. For instance, if an employee was acting outside the scope of their employment, like getting involved in a bar fight after hours, the employer is generally not liable.
Why Understanding Respondeat Superior Matters
If you're a victim of a personal injury accident involving an employee, understanding Respondeat Superior can significantly impact your legal strategy. Pursuing a claim against an employer often means access to more substantial insurance coverage and financial resources, making it easier to receive full compensation for your medical bills, lost wages, and emotional distress.
Consult a Personal Injury Attorney for Expert Guidance
If you believe you have a personal injury claim where Respondeat Superior applies, consulting a knowledgeable personal injury attorney is crucial. They can navigate the complexities of the law and work to ensure you receive the entire amount of compensation you deserve. In West Virginia, the Martinsburg law firm of Burke, Schultz, Harman & Jenkinson has a long record of successful results against negligent actors and their employers for the harm they have caused. Call 304-263-0900 for a free consultation to receive advice tailored to your specific situation.