West Virginia Nursing Home Employee Accused of Abuse & Neglect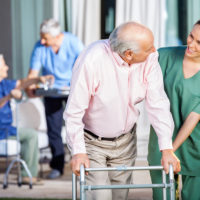 Last month, as we closed out 2018, a West Virginia nursing home employee was arrested on abuse and neglect charges, bringing attention to a troubling epidemic that we need to watch out for and work to stop in the new year. On December 28, West Virginia state police arrested a nursing assistant working at Golden Harvest Nursing Home in Welch, WV on three counts of abuse and neglect of incapacitated adults causing bodily injury, one count of abuse and neglect of incapacitated adults causing serious bodily injury, and four counts of crimes against the elderly. Prior to the arrest, the nursing assistant was suspended from his job due to suspected physical abuse. Right now, police report there are five possible victims, ages 52 to 92. Read on to learn more about the signs of nursing home abuse and neglect.
Signs of Nursing Home Abuse & Neglect
More than two million cases of elder abuse are reported each year, yet many people working in the nursing home industry believe most nursing home abuse incidents remain unreported. Thus, it's important for family members and loved ones of people living in nursing homes to be familiar with signs of nursing home abuse and neglect and to be on the lookout for them. These include:
Bed injuries and bedsores
Asphyxiation
Dehydration
Agitation and/or extreme withdrawal
Falls, fractures, and/or head injuries
Wounds, cuts, bruises, and/or welts
Infections
Wandering
Malnutrition shown by repaid weight loss or weight gain
Reluctance to speak in staff members' presence
Unsanitary and unclean conditions
Unusual or sudden changes in behavior, such as fear of being touched, sucking, biting, or rocking
Heavy medication or sedation
As soon as you notice any of these symptoms or behaviors, start asking questions, make your concerns known, and speak with an experienced nursing home abuse lawyer.
Holding Responsible Parties Accountable for Nursing Home Abuse
In the nursing home abuse case described above, there has been an arrest, but that doesn't mean victims are prevented from seeking compensation for their injuries and damages through the civil justice system. Nursing homes owe a very strict duty of care to nursing home residents based on the broad and important nature of the services they provide, so when an employee causes harm to a nursing home resident, the nursing home may be held liable for all resulting damages if there's evidence of negligent training, negligent hiring, failure to properly monitor staff, intentional abuse by staff members (as looks to be the case here), failure to protect from hazards, or some other type of negligence.
Speak to an Experienced West Virginia Nursing Home Abuse Lawyer
If you believe someone you know is the victim of nursing home abuse or neglect, and you live in West Virginia or Maryland, please contact Burke, Schultz, Harman & Jenkinson and ask to speak with a nursing home abuse lawyer. From our office in Martinsburg, WV, we represent injury victims throughout the lower Shenandoah Valley.