Head-on Collision between Two Trucks Results in Two Fatalities in Berkeley Springs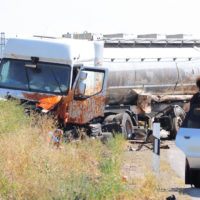 A recent local crash near Martinsburg has caused two deaths and led to serious injuries for a third person. Learn more below about the head-on crash, and contact our compassionate personal injury attorneys if you or someone you love has been hurt in a West Virginia car accident.
Fatal car accident in Brosius Hill in early May
On May 3, 2019, law enforcement was notified of a crash on Hancock Road/U.S. 522 North in the Brosius Hill neighborhood of Berkeley Springs. The crash occurred shortly before 11:30 that morning, near the intersection of Hancock Road and Brosius Lane, at the peak of the hill above the Hancock bridge. Emergency personnel responding to the scene found two pickup trucks with heavy damage, one of which had overturned. Emergency responders spent 15 minutes extracting the three occupants of the trucks from their respective vehicles. One 18-year-old female passenger was declared dead at the scene of the crash.
The two drivers involved in the crash, a 47-year-old man and an 18-year-old man, were alive but seriously injured. The 18-year-old was taken via medical helicopter to Conemaugh Memorial Medical Center in Johnstown, Pennsylvania, and the 47-year-old to a hospital in Hagerstown, Maryland. Unfortunately, the older man succumbed to his injuries and passed away the following day.
Witnesses to the crash reported that the younger driver, traveling south on Hancock Road at the time of the crash, was passing other vehicles in a no-passing zone when the crash occurred. The two trucks struck one another head-on at the top of the hill. The crash is still under investigation.
Head-on collisions frequently caused by extremely reckless behavior
Head-on crashes are one of the deadliest forms of motor vehicle accident. These accidents are frequently the result of extremely careless or reckless driving behavior, such as driving under the influence of drugs or alcohol, distracted driving, or, as appears to be the case in the recent crash, driving on the wrong side of the road at a blind intersection while illegally passing other cars. Victims of reckless drivers often have a right to money damages after a crash. These victims may have a right to punitive damages, which are a form of compensation intended to punish wrongdoers when the at-fault person showed malice, intent, or recklessness when the injury or death occurred. A seasoned personal injury lawyer can help you determine if you have a claim for punitive damages after a serious West Virginia traffic accident.
Call Our Martinsburg Injury Lawyers for Help after a West Virginia Car Accident
If you've been hurt in a serious crash in West Virginia, get a free evaluation of your potential claim for damages by contacting the knowledgeable and aggressive Martinsburg accident lawyers at Burke, Schultz, Harman & Jenkinson for a free case evaluation at 304-263-0900 or 304-LAWYERS.