Can an Auto Accident Affect Your Vision?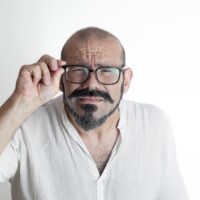 Even minor car accidents can cause significant injury to your eyes. If not assessed or treated properly, these injuries can lead to vision loss. There are many reasons why an auto accident can affect your vision. Most injuries happen because of a direct impact on the eye, abrasions or scratches on the eye, or even a blow to the head.
Penetration and Laceration
If an object hits your eye and penetrates through your eyelid, it can cause a laceration on your eye that leads to a loss of vision. The object can be anything including shattered glass, shards of metal, plastic, and any other debris that is sent flying through the air after an impact.
Abrasions and Scratches
The impact of a car accident can cause objects in your car and debris to travel at high speeds through the air. A strong impact can likely send debris toward your eyes, resulting in a scratch. If not treated properly with the right medication, the scratch could lead to a temporary or even permanent loss of vision.
Suffering a Black Eye After an Impact
A driver or passenger of a vehicle can suffer a black eye if there is a strong impact on the front of their face or directly on the eye. This can happen for a variety of reasons but is commonly associated with a driver or passenger hitting their head on a dashboard, the steering wheel, or another heavy object. Often, a deployed airbag can also cause a black eye, especially if a passenger or driver was wearing glasses at the time of impact.
Damage to your vision can occur because of the swelling that occurs around your eye. While many black eye injuries are typically minor and resolve on their own, a black eye that is accompanied by a scratch or an abrasion can lead to vision loss.
Force of Impact
The force of impact alone can cause internal damage that leads to vision loss. If you're traveling at high speeds and you suffer an accident, the impact could cause tears and detachments to happen to the inner workings of your eye. Symptoms often include blurred vision, flashes of light, double vision, and other vision issues. These issues can be temporary but could become permanent if not resolved with medical attention. If there are tears or detachments, doctors may be able to repair the injury in order to restore your vision.
Airbag Deployment
Airbags play a major role in saving lives and preventing serious injury during a car accident. Despite this, however, you could still suffer from vision issues if your airbag deploys, especially in older vehicles.
Airbags deploy faster than you can blink, and because of this, you may not be able to properly protect your eyes in time. When an airbag deploys, dust and debris can be sent into your eye and can cause scratches. You could also experience sensitivity due to the chemicals in the airbag and even temporary burning sensations.
Compensation for Vision Loss
You may be entitled to compensation if you have suffered vision loss because of a car accident. There are typically three manners in which victims may seek compensation:
Medical bills and treatment costs: You may be entitled to compensation for medical bills and any treatments related to your vision loss.
Lost wages: If your vision loss has caused you to stop working, you may be entitled to compensation for the inability to work. You may also be entitled to damages if you missed out on work because of treatment or recovery.
Pain and suffering: While vision loss is a very physical ailment, it can also bring with it trauma and psychological issues including depression, anxiety, and even PTSD. You may be eligible for compensation for your pain and suffering due to a car accident that has caused partial or full vision loss, whether it be temporary or permanent.
Our experienced team of personal injury lawyers at Burke, Schultz, Harman & Jenkinson have over 125 years of combined legal experience. Our attorneys can help you obtain the compensation you deserve if you've been the victim of a car accident that has led to issues with your vision. Reach out today to schedule your complimentary consultation by calling our Martinsburg law firm at 304-263-0900 or (304) LAWYERS.