Car Accident Laws You Should Know in West Virginia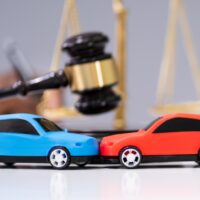 After a car crash, it is important to know the law. Car crash victims and at-fault drivers should know their legal obligations as well as their rights and recovery options. Below, we cover some of the general laws and regulations that are important to keep in mind after a car crash. Call a dedicated Martinsburg car accident lawyer if you've been hurt in a car crash in West Virginia.
Obligations after a crash
In West Virginia, all drivers involved in an accident involving property damage or injury to a person must stop, exchange contact information with other parties involved, and render assistance to anyone injured. Fleeing the scene of a crash is a criminal offense. Any driver who leaves the scene of an accident that involved physical injury faces up to a year in jail and a fine of up to $1,000. If the crash involved serious bodily injury or death, the hit and run driver is guilty of a felony and could face up to three years in prison and up to $2,500 in fines.
West Virginia's at-fault insurance regime and requirements
In some states, each driver's own insurance will cover them after an accident, regardless of fault. In West Virginia, the driver who caused a crash is liable for the damages they cause. Every driver is required by law to carry a minimum amount of auto insurance accident coverage, including:
● $25,000 per accident for property damage
● $25,000 per person and $50,000 per accident for personal injuries
An injured accident victim can file a claim against the at-fault driver and, assuming they can demonstrate fault, can expect to be compensated by the at-fault driver's insurance carrier. Injured accident victims can pursue additional damages beyond the at-fault driver's insurance policy limits, as well. An injured victim can sue for property damage, medical expenses, and psychological damages such as pain and suffering. If the total damages exceed the defendant's policy limits, the defendant will owe the additional amounts out of pocket.
Comparative negligence in West Virginia
In any personal injury matter, it is essential to know how negligence operates. West Virginia follows a "modified comparative negligence" rule in personal injury matters, including car crash cases. An injured victim can recover damages from the at-fault driver so long as the other driver was more than 50 percent at fault for the accident. If the plaintiff was partially responsible for the crash, they could still recover damages, but their total damages would be limited by their percentage of fault.
For example, if the plaintiff was hit by a driver who ran a red light, but the plaintiff was texting while driving at the time of the crash, the judge or jury might decide that the plaintiff was 20 percent at fault for the crash. If they suffered a total of $10,000 in damages, the most the plaintiff could recover would be $8,000, or 20 percent less than their total damages. Defense lawyers and insurance companies will use comparative fault as a bargaining tool when negotiating a settlement.
GET HELP AFTER A MARTINSBURG CAR ACCIDENT
If you or someone you care about has been hurt in a car accident in West Virginia, call the experienced and effective Martinsburg personal injury attorneys Burke, Schultz, Harman & Jenkinson at 304-263-0900 or (304) LAWYERS for a free consultation.