Car Crash Kills Five-Year-Old Girl in Jefferson County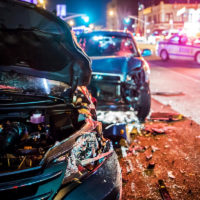 A horrific tragedy recently occurred in Jefferson County. A two-vehicle accident led to the death of a five-year-old girl on a recent Saturday near Charles Town. Continue reading for the details of the Jefferson County car crash, and contact our compassionate and dedicated Martinsburg car accident lawyers if you or a loved one has been injured or killed in a West Virginia traffic accident.
Two-Vehicle Crash Leads to the Death of a Child
On a recent Saturday around 8:30 p.m., a 16-year-old girl was driving eastbound in a Honda Civic. She was entering the W. Va. 9 from Flowing Springs Road near Charles Town, West Virginia, with her mother and her five-year-old sister as passengers. According to Ranson police, their car was then struck by a Chrysler 200 sedan. There is a stop sign at the end of the on-ramp.
Multiple police agencies responded to the scene, around mile marker 65 on westbound Route Nine, in response to a report about the accident. A Ranson police accident reconstructionist is helping with the investigation of the accident. No additional details were yet available at the time of this writing, including whether any charges were being brought against the driver of the Chrysler.
Following the accident, the young girl was transported to Children's National medical center in Washington, D.C. She remained in critical condition for several days before eventually succumbing to her injuries.
Potential Wrongful Death Suit
If the driver of the Chrysler was at fault for the accident, the young girl's family may be able to bring a wrongful death lawsuit to seek justice for their loved one and compensation to deal with the costs and harm wrought on the family. A wrongful death lawsuit can be brought by the family of a deceased person if: a person has died; as the result of the neglect, default, or wrongful act of a person, company, or governmental entity; and the decedent would have been entitled to sue for damages against the person that caused the injury had they lived. In this instance, the family can sue on behalf of the deceased girl for monetary damages, including medical expenses, sorrow and mental anguish, as a result of the terrible accident. If there are circumstances demonstrating the Chrysler driver's conduct was extremely reckless, such as if she were driving under the influence of alcohol or drugs at the time of the accident, then the family may be entitled to punitive damages as well.
If you or someone you love has been the victim of an auto accident in West Virginia, contact the Martinsburg personal injury lawyers Burke, Schultz, Harman & Jenkinson for a free case evaluation at 304-263-0900 or 304-LAWYERS.