How Can Construction Accidents Be Prevented?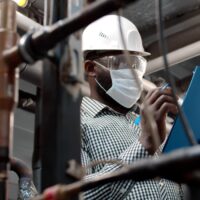 Construction is a dangerous business. Construction has the highest rate of fatal workplace accidents across all industries. Every year, hundreds of thousands of construction workers are injured or killed. Many of these accidents are preventable. Below, we discuss some of the ways in which a construction company can protect its workers and prevent unnecessary accidents. If you or someone you care about has been hurt or killed in a WV construction accident, call a dedicated Martinsburg construction accident lawyer.
Proper Safety Training
Everyone who uses a piece of machinery should be trained on its use. Only trained operators should use heavy machinery such as forklifts. Moreover, the employer should hold regular safety training for workers, updating them on workplace safety standards and the hazards they may face while on the job. Workers should be provided with written safety policies as well as periodic training, and they should not be allowed to operate equipment for which they lack training.
Equipment Maintenance
Even if everyone knows what they are doing and uses the right tools for the job, the tools themselves may be a problem. Tools get rusty, loose, and weak over time. Keeping equipment well-maintained keeps workers safe. If a tool such as a ladder is simply past its prime, it is important to replace it with a new one.
Daily Inspections
After completing a task or at the end of the workday, it's common for construction workers to leave behind a tool or a bag or a piece of construction material. They may leave a loose wire plugged in or dangling. Moreover, rain or wind overnight might have shifted equipment or knocked down power lines or rendered ladders or scaffolding unstable. Regular inspections, especially at the start of each workday, can prevent small hazards from leading to serious accidents.
Proper Safety Equipment
All construction companies must provide workers with appropriate safety equipment and ensure that workers are using that equipment properly. Workers should have necessary helmets, hats, gloves, goggles, masks, steel-toed-shoes, protective suits, and whatever else is necessary to stay safe when performing a given task or working in a given location.
Identify Hazards and Make a Plan
At the start of any job, the contractor should inspect the work site for hazards. Get a lay of the land, including weather hazards, uneven ground, wild animals, or any other unusual dangers that may arise. They should then put together a plan to deal with any issue that may arise involving these hazards and make sure all workers are apprised of the plan.
Follow OSHA Requirements
OSHA issues rules and regulations concerning safety procedures at construction sites. Supervisors and workers alike should know these rules and keep to them. Anyone who identifies any OSHA violations or incidents should record and report them in order to ensure the safety of all workers.
HELP AFTER A MARTINSBURG CONSTRUCTION ACCIDENT INJURY
If you or someone you love has been injured on a construction worksite in West Virginia, call the dedicated and trial-ready Martinsburg personal injury attorneys Burke, Schultz, Harman & Jenkinson at 304-263-0900 or (304) LAWYERS for a free consultation.