What is a Contingency Fee and How Does it Work?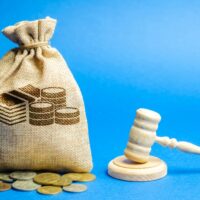 Most people understand that they have a better shot at winning a legal case if they have an attorney, but they worry about how much a lawyer costs. Are the benefits of hiring a lawyer outweighed by the costs? What happens if you lose the case? Do you still owe your attorney a sizable fee? In the personal injury world, plaintiffs' attorneys tend to work on contingency.
Continue reading to learn about attorney fee structures and contingency fees, and call a trusted Martinsburg personal injury accident lawyer if you've been harmed through someone else's negligence in West Virginia.
What is a Contingency Fee?
A contingency fee is a type of fee or payment structure for an attorney-client relationship. Lawyers can charge fees in a variety of ways. Some lawyers charge by the hour. Some lawyers charge by the task; for example, drafting a particular type of contract or assisting with the filing of an uncontested divorce might be charged as a flat fee, regardless of the number of hours worked. Other lawyers may charge a certain amount for handling a given type of case.
With a contingency fee, the lawyer is paid a portion of the ultimate award the client obtains as a result of the case. For example, a personal injury lawyer might take on a car accident injury lawsuit, charging a contingency fee of 30%. At trial, the plaintiff accident victim prevails and the jury awards the plaintiff $100,000 for their medical costs and their pain and suffering. In that case, the attorney would be paid $30,000, or 30% of the jury award. The client would keep the rest, aside from any additional court costs or other litigation expenses agreed upon in advance. The percentage is set at the beginning of the matter, and the attorney will not be paid more or less regardless of how long the matter takes to resolve, how many tasks they complete, or how many hours they work.
What Happens if We Settle?
A contingency fee arrangement is set up so that the attorney is paid out of the proceeds of the case, whether they are awarded at trial or agreed upon in a settlement, mediation, or some other form of conflict resolution. So long as the client prevails in some fashion, the attorney will be paid a percentage of the award.
What Happens if We Lose?
As explained, when a lawyer operates on contingency, that means that the lawyer will be paid out of the proceeds of the case. If the plaintiff loses at trial, the case is dismissed, or the matter is otherwise resolved such that the plaintiff receives no award, the plaintiff does not owe their attorney anything.
The only exception might be litigation costs or other expenses (filing fees, expert witness fees, etc.) that the attorney advances during the litigation. Typically, these expenses are paid back using the proceeds of the litigation, separate from the attorney's fees. If there is no settlement or jury award, the attorney will either ask the client to pay back these costs or the attorney will simply cover them. Accounting for these types of expenses should also be discussed in the initial consultation.
How Do I Know What Type of Fees My Lawyer Will Charge?
Lawyers in certain areas of law tend to employ particular fee structures. Attorneys who represent plaintiffs in personal injury actions tend to charge contingency fees, while defense attorneys are more likely to charge by task or by the hour.
Your attorney should walk you through their fee structure for your matter in your initial consultation. Per the Rules of Professional Conduct for the practice of law, your attorney must disclose their fee structure before the bulk of the legal work is conducted and fees are generated, unless you are a regular client and are already aware of their fee structure.
CALL A DEDICATED WEST VIRGINIA PERSONAL INJURY LAWYER TODAY
If you or someone you care about has been hurt as a result of someone else's negligence in West Virginia, reach out to the seasoned and trial-ready Martinsburg personal injury attorneys Burke, Schultz, Harman & Jenkinson for a free consultation. We work on contingency, which means that we only get paid if you get paid. Call our West Virginia personal injury law firm at 304-263-0900 or (304) LAWYERS today!