Safety Tips When Driving With a Baby in the Car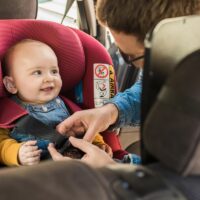 It's always a bit nerve-wracking to drive with young children in the car. Every safety concern feels somehow heightened. As a new parent, or a parent with a new child, it's important to take all appropriate precautions when driving with a baby or young child in tow. We've compiled a few safety tips below to help ensure that your newborn is as safe as can be when you're on the road. If you or a loved one has been hurt in a car crash in West Virginia, call a zealous Martinsburg car accident lawyer for stellar advice and representation.
Get the Right Safety Seat for Your Baby
State and federal traffic laws set standards for child restraint devices. Different specifications matter for children of different ages, weights, and heights. Specific seats have instructions from the manufacturer about the proper size of the child to utilize the seat, and at what point the child should graduate to a larger device or a regular seat belt.
For infants, your child should be sat in a rear-facing safety seat and fit with a proper five-point harness. Choose a seat that has good safety ratings and reviews and fits the specifications mandated by government safety officials. The American Academy of Pediatrics recommends keeping your child rear-facing for as long as possible, at least until the age of two.
Get the Right Safety Seat for Your Car
Even if you have a seat that fits your baby, you need to make sure the seat fits your car. Different makes and models of vehicles can accommodate different models of safety seats. Before you buy the seat, make sure it fits your car. You might want to get a second seat for different model cars in case you need to take a cab or Uber with your child.
Install and Utilize the Seat Properly
Installing the seat properly is just as important as getting the right car seat. Make sure you follow the instructions to the letter, or have a professional install the seat for you. Many city and county public safety departments offer free installation and safety checks, allowing you to double-check that your seat is installed safely and securely.
Likewise, make sure you know how the seat is meant to work. When you put your child in the seat, make sure the straps and fasteners are all in the proper location. If you leave too much slack, or if the straps are in the wrong location, the baby might not be as secure, or the straps could migrate to the baby's neck or face.
Ride in the Back With the Baby
It's always safest if a responsible adult can ride in the backseat with the baby. This also allows you to feed the baby on the right schedule, keep them engaged, and watch out for other issues such as carsickness. Keeping the baby entertained, burping or massaging them, and otherwise taking care of them can also help to alleviate tears and stressors brought on by the trip.
Take Breaks
If you're on a long trip that will take hours, it's important to take a break at least every two to three hours. You'll get to stretch and revitalize yourself, ensuring that you remain alert. If you have another adult in the car, consider switching drivers every few hours to keep the driver alert.
Your baby will also appreciate the occasional break, especially if they need a diaper change or a feeding. Do not attempt to breastfeed in a moving car; if there's an accident, you or your child could suffer serious harm.
Call for Help After a Martinsburg Traffic Accident
If you or your child has been hurt by a negligent or reckless driver in West Virginia, call the veteran, successful Martinsburg personal injury attorneys of Burke, Schultz, Harman & Jenkinson at 304-263-0900 or (304) LAWYERS for a free consultation.