Drunk Driver Causes Multiple-Vehicle Crash on I-81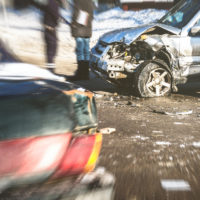 A South Carolina man was arrested this week after causing a multiple-vehicle accident on Interstate 81 in West Virginia. Read on for more about the accident and drunk driving in West Virginia, and contact an experienced car accident lawyer if you are injured in an accident.
Drunk driver crashes heading the wrong direction on I-81
A 28 year-old South Carolina man was driving the wrong way on I-81, northbound in the center lane, when he crashed his Hyundai Santa Fe truck into a Dodge truck head-on. He then side-swiped a Toyota Scion and hit a Jeep Renegade before finally coming to a stop. The crash occurred around the 14-mile marker. West Virginia State Police were called to the scene. The police reported that the South Carolina man was allegedly "in the face" of rescue personnel, would interrupt and refuse to answer police questions, and smelled of alcohol. Police also reported the man had bloodshot eyes and slurred his speech.
The police arrested the driver at the scene. He was charged with misdemeanor driving under the influence, obstructing an officer, and driving while suspended, and he is being held in East Regional Jail with bail set at $5,100.
Drunk drivers' liability for injuries caused by crash
Miraculously, no one was injured in the accident discussed above. If anyone had been injured in the crash, the intoxicated driver would be liable for their injuries. Driving while intoxicated is strong evidence of fault in a personal injury lawsuit following a crash. Potential damages include medical expenses, loss of income, rehabilitation costs, and pain and suffering. If anyone had been killed, the driver could be subject to a wrongful death suit by the family or estate of the deceased.
Drunk driving in West Virginia
According to a study by the Centers for Disease Control, nearly 1,100 people were killed in drunk driving accidents in West Virginia from 2003-2012. The study also noted, however, that West Virginia drivers claim to drink and drive much less than the rest of the country–1.9% of drivers nationally admitted to driving after drinking too much, while only 0.7% of West Virginian respondents said they did so.
If you or a loved one have been injured by a drunk driver in West Virginia, contact the passionate and knowledgeable Martinsburg personal injury lawyers at Burke, Schultz, Harman & Jenkinson for a free case evaluation at 304-263-0900 or (304) LAWYERS.