Family of Pedestrian Accident Victim Awarded $7.6 Million in Wrongful Death Accident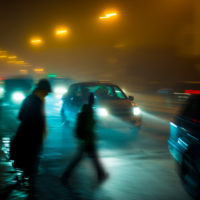 The family of a young woman who was killed in a pedestrian accident has won a claim against the driver who left the scene of the accident that killed her. Learn more about the wrongful death accident in West Virginia, and contact a dedicated West Virginia hit-and-run accident lawyer for help after a car or pedestrian accident.
West Virginia Wrongful Death Involves Drunk Driver
The lawsuit which recently resulted in a verdict for the plaintiff was based on a 2016 accident in Morgantown. A 20-year-old Charleston woman was visiting Morgantown from college. She was walking on the sidewalk on an early morning in January when Alexander Hambrick, then 19, drove up on the sidewalk and fatally injured the woman. Hambrick left the scene of the accident but was subsequently located.
Hambrick was arrested and charged with driving under the influence of alcohol resulting in death, as well as leaving the scene of an accident involving death. He claimed that, while he did not deny driving the truck that killed the young woman, he could not remember the incident. Hambrick pleaded guilty to the charges. He faced up to 28 years in prison for the charges, but instead his sentence was suspended and he was placed in a rehabilitation corrections center. He has since been released.
Jury Awards Compensatory and Punitive Damages to Family
The victim's family filed a lawsuit in Monongalia County Circuit Court against the young man, and that lawsuit recently resulted in a jury verdict in favor of the plaintiffs. The jury awarded over $6.4 million in compensatory damages, as well as $1.25 million in punitive damages intended as punishment for Hambrick's behavior. The jury heard testimony from an expert economist. This expert calculated what the victim's family could have expected her to earn in wages during her lifetime, which he assessed to be between 3.1 and 4.2 million dollars, depending on whether the woman earned only a bachelor's or master's degree. The expert also assigned a value of over $740,000 to the household services she would have performed, such as yard work and cleaning. The jury additionally awarded the family $3 million for their suffering and anguish as a result of their loss. So far, Hambrick has paid about $8,000 in restitution damages, which is half of what he was ordered to pay as the result of the criminal charges he faced.
If you or someone you love has been the victim of an auto accident in West Virginia, contact the Martinsburg personal injury lawyers Burke, Schultz, Harman & Jenkinson for a free case evaluation at 304-263-0900 or 304-LAWYERS.