West Virginia Fatal Turnpike Truck Crash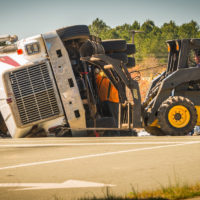 Troopers with the West Virginia Turnpike Detachment investigating a truck crash on the turnpike determined that an early morning accident on a recent Thursday was fatal. The crash involved a tractor-trailer. Continue reading for details about the accident, and contact our experienced West Virginia traffic accident lawyers with any questions or if you have been injured and need help fighting for what you are owed.
Tractor-Trailer Jumps Median, Driver Dies
A 46-year-old Ohio man was driving a tractor-trailer northbound on I-77 around 1 a.m. when he suddenly lost control of the vehicle and crossed the median near mile marker 21. The truck went over an embankment on the western edge of the roadway, eventually crashing near Camp Creek State Park. The driver and his passenger both suffered life-threatening injuries and were transported to a nearby hospital. The driver eventually succumbed to his injuries and died, while the passenger was brought into stable condition.
Trucking Accidents Pose Serious Threat to West Virginia Drivers
Accidents involving 18-wheelers and other large trucks are typically very serious due to the size of the trucks and the nature of the goods they may be hauling. Despite this, trucking companies prioritize profits and efficiency over safety, often requiring truckers to drive long hours without sufficient rest stops or dragging their feet in installing updated safety equipment in the trucks they deploy.
In 2016 alone, almost 4,000 people were fatally injured in large truck crashes across the country. Seventy percent of the people who died were occupants of passenger vehicles rather than the truck drivers. Only 16% of those fatally wounded were truck occupants, almost equal to the number of bicyclists, motorcyclists, and pedestrians who were killed in these accidents. Two hundred fifty of those fatal crashes in 2016 happened on West Virginia roads, and just like the national rate, 70% of those who died were passenger vehicle occupants. Trucking accidents are often caused by drowsy or aggressive drivers, defective equipment, or driving in unsafe conditions such as fog, rain, or snow.
If you or a loved one has been injured by a negligent driver in West Virginia, contact the skilled and passionate Martinsburg personal injury attorneys at Burke, Schultz, Harman & Jenkinson at 304-263-0900 or (304) LAWYERS for a free consultation.