Head-On Collision Causes Injuries to Five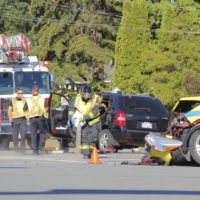 A recent West Virginia accident caused injuries to five people when two vehicles collided head-on. The victims were fortunate enough to avoid fatal injuries, as head-on collisions are typically one of the deadliest types of motor vehicle collisions.
The recent accident occurred in Upshur County, in the community of Rock Cave. The accident occurred at approximately 3:50 in the afternoon. Upshur County dispatched two Upshur volunteer fire departments, as well as law enforcement and emergency medical personnel to a collision between a 2002 Subaru Forester and a 2013 Ford Expedition. Five individuals who had been riding in the two vehicles were treated at the scene of the crash by emergency personnel. Eventually, all five were transported to local hospitals, either by private vehicle or emergency medical personnel. None of the vehicle occupants' injuries were considered life-threatening. West Virginia State Police are continuing to investigate the crash.
Head-on crashes constitute only a small fraction of the total number of traffic accidents in the US each year, but they represent a much larger share of all fatal accidents: only 2% of all collisions are considered head-on crashes, but 10% of all traffic fatalities are head-on collisions. The destructive power of the force generated by the combined speed and energy of two vehicles colliding head-on makes these crashes some of the deadliest on our roadways. Sadly, a disproportionate number of these crashes are caused by negligent or reckless behavior.
One common cause of head-on crashes is excessive speed. Either a driver attempts to take a bend in the road at too great a speed and swerves into the opposing lane of traffic in doing so, or the driver believes they can pass a car in their lane by speeding into the oncoming lane of traffic, but does not pass the other car in time to avoid a head-on crash. Additionally, texting or talking on the phone while driving is blamed as a cause of head-on crashes, as a distracted driver is more prone to swerving in and out of their own lane and failing to realize that there is an upcoming bend in the road. Drunk drivers are frequently the at-fault driver in head-on collisions, due to an intoxicated driver's inability to remain in their lane. Evidence of distraction, intoxication, or excessive speed can be used to show negligence or reckless behavior by the at-fault driver in a lawsuit for money damages stemming from a head-on collision.
If you or someone you love is hurt or killed in a collision caused by a negligent driver in West Virginia, find out if you may be owed money damages for your medical injuries, lost wages, and pain and suffering by contacting the knowledgeable and compassionate Martinsburg personal injury attorneys at Burke, Schultz, Harman & Jenkinson for a free consultation on your case, at 304-263-0900.