How Much Money Can You Get from a Car Accident?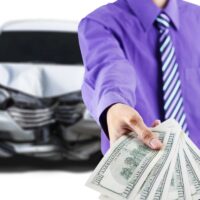 If you were hurt in a car crash as a result of someone else's negligence in West Virginia, you are likely entitled to an award of damages. The amount of damages you receive depends on many factors, including the seriousness of the accident, the extent of your injuries, the other driver's culpability, and your own level of negligence that may have contributed to the accident. Continue reading to learn about how much you may be able to recover after a car crash in West Virginia.
Economic damages
After a car crash, you can sue for a few different types of damages. "Economic" damages refer to the types of damages that you can tie down to a specific number. These types of damages are easier to calculate and are generally compensable after an accident. The negligent driver who hurt you is generally liable for your economic damages, including:
● Costs of medical care, including past expenses and estimated future expenses
● Lost income as a result of missing work, both past and future
● Property damage
Typically, your expenses will be covered by the defendant's insurance policy. Your personal injury attorney will help you determine your total past expenses and estimate your future expenses, possibly with the help of medical and financial experts. The extent and severity of your injuries will determine your total recovery.
The defendant's policy may limit the total amount you may be able to recover, or the insurance company may dispute the total amount of your medical bills or lost income. You may also sue the defendant directly, although, again, your ultimate recovery may be limited by what the defendant can afford to pay.
Pain and suffering and other non-economic damages
In addition to the economic damages described above, you can seek an award of non-economic damages from the defendant. Non-economic damages cover things for which you deserve to be compensated but which are harder to calculate. These damages include things like loss of life enjoyment, disability, annoyance and inconvenience, disfigurement, mental and emotional distress, as well as pain and suffering.
While it is hard to set a specific amount on pain and suffering damages, you may consider an average range for a pain and suffering damages settlement to be something like 1.5 to 5 times your past and future medical bills. This amount, of course, depends on the circumstances of your accident and how you present your case. Given that most cases settle before trial, it will be up to you and your attorney to convince the defense attorney and the insurance company that you have suffered significant emotional and mental damage as a result of an accident in order to recover a lot of pain and suffering damages. If your case does go to trial, a jury may award an amount far above or below this range, depending on the circumstances. The effectiveness of your West Virginia personal injury lawyer will be a significant factor in determining your ultimate award.
Punitive damages
Some of the largest auto accident awards come from punitive damages. Punitive damages are intended to punish the defendant, rather than simply compensate the plaintiff for harm, to deter that sort of wrongful conduct in the future. Punitive damages are awarded when a defendant's actions were extremely reckless or intentionally malicious. Courts may describe the defendant's behavior as "criminally indifferent" to the defendant's civil obligations or the health and safety of the plaintiff in an award of punitive damage. If a driver was very drunk when they caused a serious crash, for example, then anyone injured may be able to collect punitive damages.
Punitive damage awards can be in the hundreds of thousands, well beyond what may be necessary to pay for your medical costs or lost wages. Punitive damages are not available in cases against the government. Your West Virginia car crash lawyer can evaluate whether you are eligible to seek punitive damages after your traffic accident.
GET HELP FROM A MARTINSBURG CAR ACCIDENT ATTORNEY AFTER A WEST VIRGINIA TRAFFIC CRASH
If you or a loved one has been injured in a car crash in West Virginia, contact the seasoned and reliable Martinsburg personal injury attorneys Burke, Schultz, Harman & Jenkinson at 304-263-0900 or (304) LAWYERS for a free consultation.