Icy Roads & Car Accidents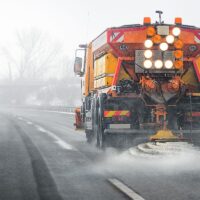 Inclement weather poses a number of additional risks that require special care. According to the Federal Highway Administration, 24 percent of weather-related vehicle crashes occur on snowy, slushy, or icy pavement. That totals more than 116,000 traffic injuries every year caused by snowy or icy roads, as well as over 1,300 fatalities.
Icy roads lead to traffic accidents. State and local agencies spend billions of dollars each year trying to mitigate the risks of icy roads, but the risks remain. If you're driving on ice this year, it's important to be careful and understand the risks. Below, we discuss the enhanced risk of driving on the ice and offer tips on how to protect yourself and your family during the winter months. If you've been hurt in a car accident in West Virginia, call an experienced Martinsburg motor vehicle accident lawyer for advice and assistance.
Heightened Risks Posed by Icy Roads
Wet or icy roads impact your ability to drive safely. Ice and snow reduce pavement friction and vehicle maneuverability. Drivers have less control over their vehicles, making it more difficult to make a sudden turn where necessary, to change lanes in a controlled manner, or to reassert control in the event of a spin-out.
Icy roads also increase braking distance. Anyone who has ever slammed the brakes on an icy road knows that you do not stop the same as you would on a dry road; you'll end up sliding. The lack of tire traction limits braking power and saps control from the driver during stops, especially when attempting to stop suddenly at high speeds. Drivers who are used to tailgating or following other drivers too closely will need to adjust their behavior to account for the reduced braking power.
Icy roads are also a symptom of bad weather that carries other risks. Icy roads likely mean icy or fogged-up mirrors and windows, limiting visibility. There may be snow, fog, rain, hail, sleet, or other weather conditions that further affect motorists' ability to see other cars and hazards on the road.
Safe Driving Practices on Icy Roads
The best thing to do is to avoid driving on icy roads where possible. If you have the option, wait until local officials salt the roads to get rid of the ice, and plan your drive accordingly.
If you must drive and you find yourself on an icy road, there are several steps you can take to mitigate the risk of an accident:
Limit driving speed. Ice saps vehicle control from the driver, especially at high speeds. Everyone around you is likely driving with reduced control as well. Drive slower than you normally would to give yourself more control, more ability to stop suddenly, and reduce the risks of a crash. If you need to drive, plan to leave early to give yourself additional time to get to your destination.
Give more lead spaceto the vehicle in front of you. If you typically give two or three seconds of lead time, increase it to seven or eight on an icy road, especially on an icy freeway.
Use your brakes appropriately. Avoid pumping your brakes, which can actually serve to reduce your control over the vehicle. Apply steady pressure to stop effectively. Slamming the brakes is likely to send your car careening out of control.
Use snow or winter tires. If you live in an area with heavy snow or ice, you'll need tires with a deeper tread. If you have normal tires, have a mechanic check the grip before driving on snowy or icy roads. You might even want to apply chains when driving through snow or ice, as advised by local or state officers.
Avoid driving impaired or distracted. Anything that poses a risk during a normal drive is significantly riskier when done on ice or during a storm.
Check your wipers and fluid. If the road is icy, your windshield may grow icy as well. Make sure your wipers are working, and put fresh anti-icing fluid in your window washing system. Normal wiper fluid can freeze in cold weather.
Be extra aware. Your biggest danger on the road is always other people. When the roads are icy, you can expect people to make more mistakes. Make sure you are focused on the task at hand and remain alert to the cars around you to watch out for erratic driving or a possible collision.
Get Help After a Car Crash in Martinsburg, West Virginia
If you or someone you love has been injured in a car accident in West Virginia, get help from the experienced and successful Martinsburg personal injury attorneys of Burke, Schultz, Harman & Jenkinson by calling 304-263-0900 or (304) LAWYERS for a free consultation.