WV Distracted Driving Law: Is It Legal to Eat While Driving?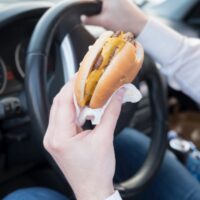 Distracted driving is a growing danger in the United States. More than a quarter of all traffic accidents in West Virginia are connected to distracted driving. For that reason, West Virginia and other states have passed laws banning distracted driving, and violators can face harsh fines and other penalties. But what do these laws actually prohibit? Is it now illegal to eat a protein bar or a hamburger while driving? Is it illegal to drink a milkshake? To learn about West Virginia's distracted driving laws and how they apply to eating, read below. If you or someone you care about has been hurt in a distracted driving car accident in West Virginia, call a seasoned Martinsburg distracted driver accident lawyer for help with your claims.
West Virginia Prohibits Reading and Texting, Not Eating
West Virginia, like all other states, has issued a ban on texting while driving. Texting (and similar activities, such as emailing, messaging, and posting on social media), is a growing danger on roads across the country, approaching even drunk driving in terms of the increased risk of causing an accident.
Under West Virginia's distracted driving laws, the following actions are illegal while driving:
Using a cell phone or other wireless communication device, except in hands-free mode
Reading or writing texts, emails, or other messages, or generally using the phone to type or read text (such as browsing a web page)
For drivers under the age of 18 or who have a learner's permit, use of any wireless communication device, even in hands-free mode
For school bus drivers, using cell phones while driving
There are exceptions, such as for police officers.
WV law does not explicitly prohibit other forms of distraction, such as eating. Of course, if eating causes the driver to otherwise drive unsafely–such as if they are swerving between lanes, speeding, or otherwise failing to follow traffic laws–the driver may be subject to a citation. Eating while driving also increases the risk of getting into an accident, as we discuss below.
Even if It's Legal, is it Safe?
Safety experts define driver distraction by three metrics: manual, visual, and cognitive. These categories represent distractions that take a driver's hands off the wheel, eyes off the road, and mind off the task of driving, respectively. Some types of distraction fall only in one category–for example, a heated argument with a passenger may be cognitively distracting but it doesn't require removing your hands from the steering wheel or looking away from the road. Texting while driving, on the other hand, is especially dangerous because it involves all three forms of distraction.
Eating while driving causes at least manual distraction, because you need to hold the item of food. Depending on the type of food, you might take both hands off the wheel. Moreover, dealing with the food might pull your eyes and/or attention off of the road. It might not be as bad as texting, but it does affect your ability to respond to sudden hazards and other things on the road.
If someone is eating while driving and they wind up in an accident, the fact that they were eating may be used to show that they were negligent and thus at fault for the crash. While eating while driving isn't illegal, it can serve as the basis for civil liability. It's wise to limit or avoid eating while driving entirely, if possible, and if you do need to eat, stick to bars and other items that are easy to eat without causing too much distraction. If you were hit by another driver who was busy eating a messy sandwich at the time, a seasoned West Virginia car accident lawyer can help you recover compensation for your injuries.
CALL FOR HELP WITH YOUR MARTINSBURG DISTRACTED DRIVING ACCIDENT CLAIM
If you or someone you care about has been hurt by a distracted driver in West Virginia, call the experienced and effective Martinsburg personal injury attorneys Burke, Schultz, Harman & Jenkinson at 304-263-0900 or (304) LAWYERS for a free consultation.