Is the Lifeguard Liable for a Pool Drowning in West Virginia?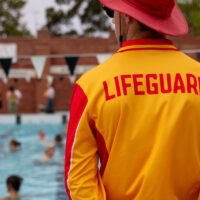 Swimming pools can provide a fun, refreshing leisure activity, especially during the summer months. Pools do, however, carry risks. Young children are especially vulnerable to drowning or other pool-related injuries. We depend upon lifeguards to protect ourselves and our loved ones when we swim in public or private pools. What happens when a lifeguard shirks their duty, and someone suffers catastrophic injury as a result? Is the lifeguard liable? Read on to learn about lifeguard liability after a drowning in West Virginia, and call a Martinsburg swimming pool accident lawyer for help if your loved one has drowned or otherwise suffered an injury at a pool in West Virginia.
Lifeguards Are Responsible for the Safety of Pool Guests
Hotels, parks, and other entities hire lifeguards to ensure the safety of pool guests. Lifeguards are meant to be trained and certified before being hired so that they have the necessary knowledge and physical aptitude to respond to emergencies that might result. When there's a lifeguard on duty, that lifeguard–and their employer–are responsible for keeping the environment safe for pool guests.
If a lifeguard fails to adhere to their duties, then the lifeguard and their employer may be held liable for any harm that results. Lifeguards are expected to have the requisite training and experience to protect people in the pool area and to respond to an emergency when it arises. If a lifeguard is slacking off on the job, if they are too distracted to watch out for swimmers, or if they lack the training and skills necessary to respond to an anticipatable emergency, then they and their employer could be liable.
When Is a Lifeguard or Their Employer Liable?
Premises owners have a responsibility to ensure guests are reasonably safe. If a hotel, resort, or other entity employs a lifeguard, that lifeguard is meant to protect swimmers from harm. When the lifeguard acts negligently and someone is injured as a result, the lifeguard and/or their employer may be held liable.
A lifeguard may be negligent in a number of ways. Negligence that may contribute to drowning and result in liability might include:
Inattention on the clock. If the lifeguard is socializing, sleeping, texting or browsing social media, or otherwise engaging in other activities that distract them from their task of watching out for trouble, they could be liable for harm that results.

Failure to respond to an emergency. Inattention and other factors may lead a lifeguard to respond too slowly, or not at all, to an emergency. If the lifeguard does not react in the time and manner a reasonable lifeguard should, they might be negligent.

Inadequate training. Lifeguards must be trained and appropriately certified. If the lifeguard lacks the appropriate emergency response training and certifications, they have no business being put in a position of safeguarding our friends and family. Their employer may have been negligent in failing to conduct a proper background check or otherwise hire someone qualified, or the lifeguard may be liable for misrepresenting their qualifications.

Failure to act appropriately. Even a trained lifeguard can fail in their duties if they do not act appropriately and in accordance with that training. If they freeze up or make mistakes when trying to pull someone from the pool or administer CPR, their failures may be actionable.
Call for Help With a Martinsburg Pool Accident Claim
If you or your child has been injured at someone else's pool in West Virginia, call the passionate and successful Martinsburg personal injury attorneys Burke, Schultz, Harman & Jenkinson at 304-263-0900 or (304) LAWYERS for a free consultation.