Kroger Yellowfin Tuna Recalled After More Than a Dozen Poisoned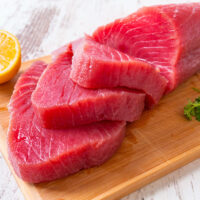 The federal Food and Drug Administration (FDA) is now warning consumers that what they cannot smell or even taste may hurt them when it comes to spoiled seafood.  Several consumers were poisoned after eating yellowfin tuna steaks sold at multiple separate Kroger retail stores in Ohio, leading to a recall of the tuna products in 16 states, including West Virginia.  Read on for details about the recalled products and the poisoning, and contact our seasoned West Virginia product liability lawyers if you have been hurt by a defective product and need help fighting for what you are owed.
What is scombroid poisoning?
Scombroid poisoning is a disease caused by the ingestion of spoiled fish products.  Fish that have not been properly refrigerated from when they were caught until being cooked and served may retain certain bacteria and release histamines causing symptoms in people who consume the fish.  Scombroid poisoning is most commonly associated with tuna, mahi-mahi, mackerel, marlin, bluefish, amberjack, and abalone, although other types of seafood have been known to cause scombroid poisoning as well.  Unfortunately, unlike other types of spoiled fish, scombroid is not usually detectable by smell or taste.  However, if you detect overly peppery or burning taste while eating tuna or other fish, it may indicate the fish is spoiled and you should stop immediately.
Symptoms of scombroid poisoning typically begin quickly, within 15 minutes to two hours of consumption, and include a combination of flushing and rash on the upper face and body as well as sweating, diarrhea, and abdominal cramps.  While most people recover quickly, people with severe reactions such as swelling in the tongue and mouth, breathing trouble, and blurred vision should be treated in an emergency room as soon as possible.  Scombroid poisoning can generally be treated with antihistamines.
Scombroid poisoning leads to Kroger recall
At least sixteen people who consumed tuna steaks purchased from three separate Kroger stores in Ohio recently came down with scombroid poisoning.  The FDA caught wind of the poisoning cases and contacted Kroger.  In response, Kroger issued a recall of all yellowfin tuna steaks from their stores in Alabama, Arkansas, Georgia, Illinois, Indiana, Kansas, Kentucky, Michigan, Missouri, Mississippi, Nebraska, Ohio, South Carolina, Tennessee, Virginia and West Virginia.
The recalled products have a sell-by date between August 29 and September 14, 2019.  If you have purchased any Kroger yellowfin tuna products with a sell-by date in that range, you should discard the potentially-spoiled product.  Kroger is offering a full refund for consumers who return the spoiled product to the store.  If you experience any symptoms of scombroid poisoning, see a doctor immediately, and contact your local health department to report the incident.  The full list of products recalled is available on Kroger's website.
WEST VIRGINIA DEFECTIVE PRODUCT LAWYERS
If you or a loved one has been injured due to a defective product in West Virginia, contact the skilled and passionate Martinsburg personal injury attorneys at Burke, Schultz, Harman & Jenkinson at 304-263-0900 or (304) LAWYERS for a free consultation.