Most Common Construction Accidents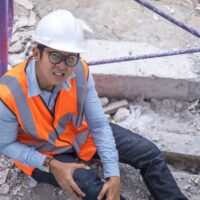 Construction is one of the most dangerous industries for workers. According to the Occupational Safety and Health Administration (OSHA), over 20 percent of workplace fatalities happen in construction, representing over 1,000 deaths in 2018. Thousands more suffer serious injury each year. Below, we review some of the most common construction accidents and injuries. Contact a knowledgeable Martinsburg construction accident lawyer if you've been hurt in a construction accident in West Virginia.
Falls From Heights
Construction workers are often operating from scaffolding, ladders, or other raised platforms in the process of building up a project. When a railing comes loose, a ladder is unsteady, or sheer bad luck occurs, workers may fall from a high place and suffer severe injury.
Slip and Falls
In addition to falling from a high place, many workers are injured when they slip, trip, and fall due to loose objects and wet surfaces. Whether due to a loose wire, discarded equipment, uneven surfaces, or a slippery floor caused by weather or a spill, slip and falls at construction sites are especially dangerous as compared to falls in other locations. According to OSHA, falls represent over a third of all construction worker fatalities.
Strains, Sprains, and Overexertion
Not every injury on construction sites is caused by a sudden impact. Construction involves a lot of lifting, turning, climbing, and carrying heavy objects. Many workers strain or sprain muscles, hurt their joints, or suffer from heatstroke and other overexertion conditions. Injuries to the shoulders, knees, back, neck, and elbows are common.
Struck by Objects
There are always a lot of loose objects being installed or transported from one place to another around construction sites. When equipment, materials, or machinery comes loose, it can roll down a ramp, fall off scaffolding or other heights, or go flying through the air. Anyone struck by a loose object in the head, torso, or extremities is likely to suffer severe injury.
Caught or Stuck In-Between
Construction sites are full of heavy equipment and machinery. Many workers get a limb caught inside a piece of machinery or find themselves stuck between immovable objects or debris.
Electrocution
Construction workers are regularly exposed to a variety of electrical equipment. If a piece of machinery malfunctions, if wires become loose, or if a safety protocol is not observed, a worker can suffer a severe shock. According to OSHA, electrocutions, along with falls, caught in-between, and struck by objects represent the "fatal four"–the most common fatal construction worker injuries.
Vehicle Accidents
Construction projects involve the use of trucks, cranes, tractors, and other vehicles to transport equipment, materials, and personnel across the site or to and from other locations. Many workers are injured when they are struck by these vehicles or even by civilian vehicles passing by a worksite. Many workers operating or riding vehicles as a passenger are injured as well.
HELP WITH YOUR MARTINSBURG CONSTRUCTION ACCIDENT CLAIM
If you or someone you care about has been hurt in a construction accident in West Virginia, call the passionate and dedicated Martinsburg personal injury attorneys Burke, Schultz, Harman & Jenkinson at 304-263-0900 or (304) LAWYERS for a free consultation.