Winter-Related Car Accident Kills Moundsville Man on West Virginia Route 2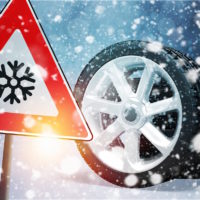 A two-vehicle crash on Route 2 in West Virginia left one Moundsville man dead and other participants injured. Officials connected the accident in Marshall County to poor weather conditions as snow had started to blanket the area. Read on for details about the dangers of driving during Winter, and contact a dedicated West Virginia car accident lawyer for help after a car or pedestrian accident.
Two-Vehicle Car Accident Kills One, Injures Two
Sections of Route 2 in Marshall County were closed for several hours after a "nearly head-on" collision between two vehicles. In the early afternoon, the driver of a car heading north near Burch Ridge in the area of the CertainTeed plant lost control of his vehicle and collided with a vehicle heading southbound. The collision occurred south of Moundsville. The northbound driver, a Moundsville man in his mid-30s, was killed in the crash, while his female passenger was seriously injured and taken to a nearby hospital. The southbound driver was also transported to a hospital for treatment of minor injuries.
Marshall County Sheriff Kevin Cecil indicated that the recent snowfall may have been a contributing factor to the accident. He stated that deputies had responded to "a large number" of other accidents over the same mid-January weekend and recommended that drivers try to stay off the road entirely if the dangerous weather conditions failed to improve.
Weather-Related Accidents Deadlier Than Large-Scale Weather Disasters
When weather conditions are poor, traffic is often slowed, lanes are closed, traffic signal timing may be interrupted, and the ability for a car to accelerate or slow down at the normal rate may be affected. According to statistics from the U.S. Department of Transportation, around 21 percent of traffic crashes involve hazardous weather conditions. Nearly 5,400 traffic deaths per year are connected to adverse weather, compared to only 379 deaths caused by natural disasters such as flooding, lightning, tornadoes, hurricanes, and heat.
Drivers often either do not know or do not care how to drive carefully and appropriately when snow, rain, or ice are involved. Nevertheless, all drivers have a responsibility to adjust their driving when conditions are poor. Aggressive driving without regard to dangerous weather conditions can place someone at fault for any injuries they cause, even if the weather was a contributing factor.
If you or someone you love has been the victim of an auto accident in West Virginia, contact the Martinsburg personal injury lawyers Burke, Schultz, Harman & Jenkinson for a free case evaluation at 304-263-0900 or 304-LAWYERS.