New Data Shows that Traffic Deaths Continue to Rise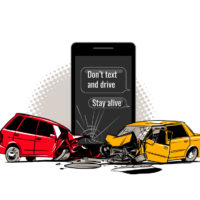 The National Highway Traffic Safety Administration (NHTSA) recently released its annual report analyzing the number and causes of fatal traffic accidents for 2016. For yet another year, the rate of fatalities has risen, and many experts point to rising mobile phone use as the cause.
In 2016, the NHTSA reported that 37,461 people were killed in motor vehicle accidents in the US. This means that 100 people died each day while in or near motor vehicles. In the past two years, the rate of motor vehicle fatalities has risen by 14.4%. The NHTSA reports that, while speeding and drunk driving rates increased in 2016, the rates of distracted and drowsy driving fell. However, some experts dispute this interpretation of the data.
Safety experts point to multiple examples within the NHTSA's own numbers and outside research to support their conclusion that distractions are a larger part of roadway deaths than reported. For example, in the past two years, the number of Americans who report using their phones to follow the news or post photos on social media has grown by 10% to include 80% of all respondents. This sort of phone usage is more difficult to track than phone calls or texts sent by drivers.
Additionally, the types of fatalities that are increasing also points to a rise in distractions from phones rather than other causes. The number of deaths among what are known as non-vehicle occupants—pedestrians, motorcyclist, and bicyclists—have come to account for nearly 33% of all traffic fatalities. As of 2007, this number was only 25%. Pedestrian deaths have risen by approximately 22% in two years, with 5,987 pedestrians dying in traffic accidents in 2016. Experts point out that, for a driver only occasionally looking up from their phone at the road, smaller visual objects like people or bikes are much easier to miss than cars.
The National Safety Council, a private nonprofit safety group, strongly contests NHTSA's assessment of the role of phones in traffic deaths. According to their research, in over half of all accidents where cell phone use was a known factor in the crash, the NHTSA did not record the crash as one caused by mobile phone use. Jennifer Smith, the founder of a nonprofit group lobbying for policy changes on distracted driving, believes that the NHTSA has failed to accurately assess the rate of accidents caused by cell phone use. "Honestly, I think the real number of fatalities tied to cell phones is at least three times the federal figure. We're all addicted and the scale of this is unheard of."
If you or someone you love has been injured in a West Virginia motor vehicle accident, find out if you're entitled to money damages for your injuries by contacting the seasoned and effective Martinsburg personal injury lawyers at Burke, Schultz, Harman & Jenkinson for a free case evaluation, at 304-263-0900.