New Federal Rule on Speed Limiters in Trucks Under Public Review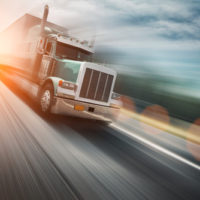 The National Highway Traffic Safety Association (NHTSA) and Federal Motor Carrier Safety Administration (FMCSA) have, in concert, published rules that would require all new commercial vehicles weighing 26,000 lbs. or more to come equipped with a speed limiting device. These devices will cap the vehicles at a top speed of 60, 65, or 68 mph, with the exact top speed to be determined pursuant to the results of the public comment period which is currently ongoing.
Traffic safety advocates have been calling for mandatory speed limiters to be installed in large trucks and buses for many years. Such limiters have long been in use by certain carrier companies, and are already mandatory in countries throughout the world. NHTSA Administrator, Mark Rosekind, called the rule "basic physics." FMCSA Administrator Scott Darling also praised the rule, noting that it "will save lives while ensuring our nation's fleet of large commercial vehicles operates efficiently." US Transportation Secretary Anthony Foxx pointed out that the rule will have a positive impact on climate health, saving an estimated $1 billion in fuel costs each year, in addition to the enormous safety advantages. "Based on the agencies' review of the available data, limiting the speed of these heavy vehicles would reduce the severity of crashes involving these vehicles and reduce the resulting fatalities and injuries," he stated. The drafters of the rule declined to select an exact maximum speed at which large trucks, buses, and other heavy vehicles will be forced to travel. The rulemaking bodies will presumably select a speed at the conclusion of the public comment period.
Many industry representatives are enthusiastic about the new rule, including the American Trucking Association's president and CEO, Chris Spear. "We are pleased NHTSA and FMCSA have, almost 10 years after we first petitioned them, released this proposal to mandate the electronic limiting of commercial vehicle speeds," he said. "Speed is a major contributor to truck accidents and by reducing speeds, we believe we can contribute to a reduction in accidents and fatalities on our highways."
Some other groups, especially those associated with independent drivers, are more critical of the new regulation. Many argue that forcing trucks to travel at a slower speed than the rest of traffic will cause its own safety hazards, and could cause a "rolling roadblock" where trucks are traveling in all lanes of a narrow highway.
Approximately one in ten roadway deaths in the US results from an accident involving large trucks, with the overwhelming majority of those deaths being the occupants of passenger vehicles. Approximately 40% of all crashes involving large trucks occur at speeds between 60 mph and 75 mph, according to the NHTSA. Due to their weight, large trucks require a long distance to come to a complete stop. Additionally, that braking distance becomes exponentially longer as their speed increases; in fact, an 18-wheeler traveling at 65 mph needs an approximately-50% longer braking distance to come to a stop than does a truck traveling at 55 mph.
If you're one of the tens of thousands who are injured each year in accidents with semi-trucks, tractor-trailers, or 18-wheelers, contact the dedicated and trial-ready West Virginia truck accident attorneys at Burke, Schultz, Harman & Jenkinson for a consultation, at 304-263-0900.