On-Board Entertainment Systems on Motorcycles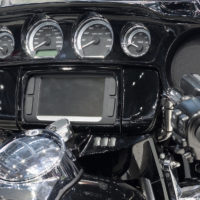 A new trend among motorcycle manufacturers sounds as though it could increase the risk of motorcycle accidents, but manufacturers insist it will make riders safer. Joining BMW and Harley-Davidson, motorcycle manufacturer Polaris Industries will now offer touchscreen consoles on certain new models in their line of Indian motorcycles.
The on-board entertainment system created by Polaris, known as Ride Command, will offer riders the ability to receive turn-by-turn navigation and a way to pair their phone to their bike. The touchscreen will offer riders weather and traffic reports for areas coming up along their routes. Due to the amplified effect that weather has on safe motorcycle riding, as well as the danger to motorcyclists of being rear-ended in stop-and-go traffic, the system is touted as one that has the potential to promote safety. The Ride Command system can also provide such information as the location of the nearest gas station when riders are running low on fuel. Additionally, Ride Command records data while the rider is on the road that can be condensed into a report on the technical aspects of the rider's style, such as their acceleration, braking, and turn angles, which can be used to improve technique.
BMW and Harley-Davidson have been offering an on-board information system on their bikes for some time. The Harley-Davidson Boom! Box system is controlled through the bike's handlebars, enabling riders to operate their system safely while on the road. The BMW system can provide alerts of mechanical issues with the bike, such as a fast-deflating tire, so that riders can address those issues before losing control of the bike.
While manufacturers tout the increased safety of being able to use an easily visible mapping system and built-in phone pairing, rather than fumbling with paper maps or a phone mounted precariously on a bike's handlebars, distractions are still a concern. Studies have shown that even hands-free devices make a substantial imposition on the attention spans of passenger vehicle drivers. Even after drivers turn their attention back to the road, their minds tend not to fully return to the road for over 20 seconds after engaging with their entertainment systems. Considering that motorcyclists have even more to lose from their focus being pulled away from the road, time will tell as to whether or not these entertainment systems do more harm than good.
If you have been injured in a motorcycle accident in West Virginia, contact the knowledgeable, skilled, and trial-ready Martinsburg personal injury lawyers at Burke, Schultz, Harman & Jenkinson for a consultation on whether you may have a claim for damages, at 304-263-0900.