How to Prevent a Motorcycle Accident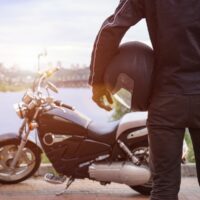 There are over 50,000 registered motorcycles across the State of West Virginia, and over 110,000 licensed motorcycle riders. Motorcycles can be an eco-friendly, cost-effective, and fun alternative to driving a passenger car. Motorcycles can also be extremely dangerous. Bikers who wind up in an accident are significantly more likely to suffer serious injury or worse than are drivers and passengers in automobiles. Proper training, equipment, and riding protocol are keys to avoiding a catastrophic motorcycle wreck. Read on for tips on how to prevent motorcycle accidents, and call a knowledgeable Martinsburg motorcycle accident lawyer if you've been hurt in a motorcycle crash in West Virginia.
Make Yourself Seen
Many motorcycle-auto accidents occur because drivers simply do not see motorcycles nearby. Bikes are smaller than cars and inherently less visible. Motorcycle riders can protect themselves by wearing bright colors and reflective gear, as well as by using their lights at all times of the day and night. It also helps to ride in the part of the lane that makes the biker most visible to motorists. If you get the sense that an auto driver doesn't know you are there, honk to get their attention.
Keep a Clear Head
It's been said a million times before, but it bears repeating: Do not drink and drive. Alcohol impairs judgment, adversely affects vision and hearing, and slows reaction time. Bikers need all their wits about them to avoid a serious accident; simply riding a motorcycle requires coordination and balance.
Avoid Bad Weather Riding
Motorcycle riders are more directly affected by inclement weather, including rain, wind, ice, and snow. Bikers must often make split-second decisions while riding in order to avoid a wreck, and that becomes much more challenging when visibility is impaired, the road is slippery, or strong winds affect the rider's ability to control their bike. If you can avoid riding during bad weather, it's advisable to do so.
Conduct Regular Maintenance
Motorcycle parts wear down with use. Keeping your bike in top condition is an important factor in avoiding unnecessary accidents. Perform regular maintenance on components including the engine, brakes, tires, headlights, and turn signals.
Be Alert
One of the biggest hazards to motorcycle riders is other drivers. Texting drivers, drunk drivers, and drivers who are simply oblivious can too easily make a sudden stop or turn and crash into a motorcycle riding nearby. Watch out for all other cars on the road and be ready to adjust should they do something sudden or unexpected.
Wear Protective Gear
Technically, this isn't a tip for preventing accidents, but it's still worth making the point: Helmets save lives. Full-face helmets are even more effective at preventing serious injury. Additionally, full-length leather (or other durable material) jackets, gloves, boots, and long pants can protect against road rash and other painful and debilitating harm.
Auto Driver Awareness
Most of the time when there's an accident involving a motorcycle and a non-motorcycle vehicle, it's not the biker's fault. Auto drivers have a responsibility to be alert and vigilant while on the road, which includes watching for motorcycles and other less visible vehicles. Drivers must keep an appropriate distance from bikers, watch for biker turn signals and hand signals, avoid risky driving maneuvers, signal their turns, and avoid driver distractions. Auto driver safety prevents motorcycle-car crashes.
Get Seasoned Help After a Martinsburg Motorcycle Accident
If you or someone you care about has been hurt in a motorcycle accident in West Virginia, call the dedicated and trial-ready Martinsburg motorcycle injury attorneys Burke, Schultz, Harman & Jenkinson at 304-263-0900 or (304) LAWYERS for a free consultation.