Senate Considers Requiring Greater Safety Measures on Big Rigs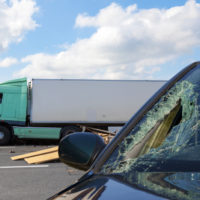 Tractor-trailers, semis, and other large commercial trucks are bigger, heavier, and taller than just about any other vehicle on the road. These machines can do serious damage to smaller passenger vehicles when accidents occur. This makes it critical that truck manufacturers and carrier companies take all possible practical measures to make these mammoth vehicles safer on the road. In an effort to reduce roadway deaths caused by accidents involving large trucks, federal lawmakers have proposed a bill that would require that all commercial trucks possess additional safety features. Read on to learn more about the proposed legislation, and contact a knowledgeable West Virginia truck accident attorney if you've been injured in a truck crash.
When large trucks and passenger vehicles collide, over 80% of fatalities that result from these accidents are among the passenger vehicle's occupants. Among the deadliest forms of car/truck collision is the underride accident. Underrides occur when a passenger vehicle collides with the side, front, or rear-end of a tractor-trailer and becomes wedged under the larger truck. In these accidents, the passenger cabin of the smaller vehicle is often hardest hit. In some cases, the roof is torn off the passenger cabin; in others, the cabin is simply crushed. In either case, the vehicle's occupants often suffer grave or fatal injuries.
Federal commercial trucking regulations already demand that trucks use rear underride guards to prevent the most common type of underride collision. However, the strength standards for these guards are set low enough that the guards are not able to prevent all rear-end underrides. In fact, in a study of 28 fatal accidents where a passenger vehicle rear-ended a big rig, 23 of the accidents involved the passenger vehicle suffering severe or catastrophic underride damage. No underride guards are mandatory on the sides or front end of tractor-trailers.
Several lawmakers have set out to reduce the risk of an underride crash for those in passenger vehicles. The bill currently being considered by US Senators would set the crash rating for rear underride guards at a higher level and would require that trucks carry side and front-end underride guards, as well. "With so many unpredictable accidents on the road, underride guards are an easy solution for protecting people and preventing them from dying when a car collides with a truck," explained Sen. Kirsten Gillibrand, one of the bill's sponsors.
If you or someone you love has been injured in an underride accident or other major truck crash in West Virginia, find out if you're entitled to money damages by contacting the knowledgeable, seasoned, and effective Martinsburg truck accident lawyers at Burke, Schultz, Harman & Jenkinson for a free case evaluation at 304-263-0900.