Steps to File a Personal Injury Claim Against a Trucking Company in West Virginia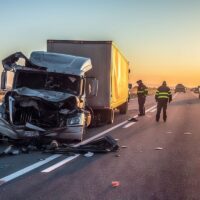 If you've been in an accident with a commercial truck in West Virginia, the consequences can be devastating and costly. Your path to recovery might include filing a personal injury claim against the trucking company involved. The process might seem intimidating, but with the right guidance, you can navigate it successfully. See below for a step-by-step guide on how to proceed. For personalized advice and representation responsive to your unique needs, contact Burke, Schultz, Harman and Jenkinson to speak with an experienced West Virginia trucking accident lawyer.
Step 1: Seek Immediate Medical Attention
After any accident, your health should be the first priority. Seek immediate medical attention, even if you think you haven't been severely injured. Some injuries don't become apparent until later, and a medical record will serve as critical evidence for your claim.
Step 2: Gather Evidence at the Scene
Collect as much evidence as possible from the accident scene, such as photos or videos of the vehicles involved, road conditions, and any visible injuries. Additionally, gather names and contact information of witnesses.
Step 3: Report the Accident
Report the accident to law enforcement agencies as well as to your insurance company. Ensure you obtain a copy of the police report, as it'll play a crucial role in your claim.
Step 4: Consult an Experienced Personal Injury Lawyer
Trucking companies typically have robust legal teams defending their interests, so it's imperative you seek professional legal advice before speaking or dealing with them. The attorneys at Burke, Schultz, Harman, and Jenkinson have decades of experience in handling personal injury cases in West Virginia. We can guide you through the intricacies of state laws and regulations to help you secure the best possible outcome.
Step 5: Identify the Liable Parties
Your lawyer will help identify all potentially liable parties. This might include the truck driver, the trucking company, manufacturers of faulty truck components, or other parties involved in the maintenance and operation of the truck.
Step 6: File Your Personal Injury Claim
Your attorney will prepare and file your personal injury claim. It will detail your injuries, demonstrate liability, and outline the compensation you seek for medical expenses, lost wages, pain and suffering, and other legal damages.
Step 7: Negotiate a Settlement or Prepare for Trial
The final step involves negotiation with the defendant's insurance company to reach a fair settlement. If negotiations aren't fruitful, your attorney will prepare your case for trial, advocating fiercely for your rights.
Filing a personal injury claim against a trucking company in West Virginia can be complex and time-consuming, but you don't have to do it alone. Trust the experienced legal professionals at Burke, Schultz, Harman and Jenkinson to guide you every step of the way.
Remember, each personal injury case is unique, and this guide is meant as a general overview. Contact us today at 304-263-0900 for a free consultation tailored to your individual case and circumstances.