Study Finds Phone Use Behind the Wheel Has Only Increased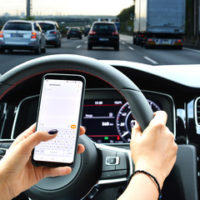 More and more states are imposing increasingly-strict laws on behind-the-wheel phone use, and many experts argue convincingly that the increase in roadway deaths in recent years is due to inappropriate mobile phone use. Despite these facts, a recent study shows that mobile phone use behind the wheel has only become more common. Read on to learn about the recent research, and contact a knowledgeable West Virginia personal injury lawyer for advice and assistance after a crash.
App measures phone use while car is in motion
The Silicon Valley startup Zendrive uses a phone's GPS and motion sensors to measure when a driver takes out their phone while driving, providing this data to insurance carriers and ride-sharing companies, as well as using anonymized data to track driver behaviors on a wide scale. The company analyzed data gathered from over 4.5 million drivers who covered over 7 billion miles during the studied period.
According to Zendrive's analysis, about 60% of all drivers studied used their phones at least once during their drive. Zendrive estimates, based on this information, that about 69 million drivers nationwide use their phones at least once while driving. The amount of time that drivers use their phones also appears to have grown. The length of phone use went up by 5% between 2017 and 2018, with the average driver using their phone for nearly four minutes per hour spent behind the wheel.
Traffic safety laws have little effect on phone use
The company has also found that laws restricting cell phone use behind the wheel do not appear to have restricted the amount that drivers in states with such laws use their phones. For example, mobile phone use in California—a state with some of the most restrictive laws that became even more strict in 2017—went up by 54% in 2018. On average, Californians spend over 6.5% of their time behind the wheel on their phone. The president of Zendrive, Jonathan Matus, explained that cell phone use while driving could have extremely serious implications for roadway safety if it continues to grow in this manner. "As you have more young drivers on the road, and as people increasingly become addicted to their smartphones, it will continue being a major health issue—almost an epidemic—in this country."
If you or someone you love has been injured in an accident with a distracted driver in West Virginia, contact the knowledgeable and aggressive Martinsburg personal injury lawyers at Burke, Schultz, Harman & Jenkinson for a free case evaluation at 304-263-0900, or (304) LAWYERS.