The Three Most Common Causes of Rollover Accidents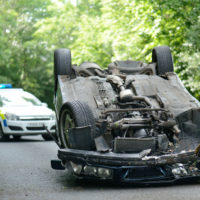 If you've ever been involved in a rollover crash, you know how terrifying and dangerous they can be. Rollover accidents are, in fact, one of the most fatal forms of traffic accident, according to the National Highway Traffic Safety Administration, and are an especially great issue of concern among SUV, large van, and pickup drivers. What makes a car roll over in a crash? Learn more below about these dangerous accidents, and call a knowledgeable West Virginia car accident attorney today if you or someone you love has been involved in a rollover crash.
Trips in the road
Trips are objects on or alongside the surface of the roadway that cause a vehicle to be knocked off-balance so that not all the vehicle's wheels are touching the ground. Trips can include curbs, guardrails, or fallen objects in the road. Trips are by far the most common cause of rollover accidents, and they are most likely to result in a rollover among vehicles with an especially high center of gravity and a narrow wheel track (the distance between wheels on the passenger and driver side), such as certain SUVs and pickup trucks that are defectively designed. Drivers who are traveling at very high speeds are especially likely to be seriously or fatally injured after hitting a trip.
Poor road conditions
Anytime rain, ice, or snow has coated the roadway, drivers are more likely to lose control of their vehicle, hit a trip, and roll over. It is critical that drivers follow other cars at a safe distance when weather is inclement, to allow greater time to reach a stop should they lose control of their car when hitting a slippery patch. Again, vehicles that are designed to have too high a center of gravity or with too narrow a wheel base are more likely to be injured in a rollover crash than drivers of other vehicles.
Jerking the wheel
Jerking the wheel sharply to one side or the other will cause the vehicle to be knocked off-balance, making it more likely to roll over. Drivers traveling at excessive speeds, or who were distracted by a phone, are more likely to need to try and quickly avoid a collision by jerking the wheel, and are thus at greater risk for this form of crash.
If you have been injured in a rollover accident in West Virginia, seek experienced, knowledgeable, and determined rollover crash lawyers to help you succeed on a claim for damages, and contact the Martinsburg personal injury lawyers at Burke, Schultz, Harman & Jenkinson for a consultation on your case, at 304-263-0900.