Who is Liable in a Truck Accident?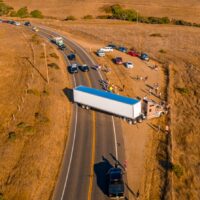 Accidents involving tractor-trailers, semi-trailers, eighteen-wheelers, and other large trucks are more likely to be catastrophic than accidents involving passenger cars. Trucks are massive vehicles, sometimes carrying loose cargo or hazardous materials, and all of these factors can lead to a more serious crash. Truck accident claims, in turn, can be more complex than typical car accident injury claims, because identifying the cause of the crash and the party responsible is often more complicated than simply suing the driver. Below, we discuss the parties who may be liable in a large truck accident. If you or someone you care about has been hurt or killed in a crash with a large truck in West Virginia, call a knowledgeable Martinsburg truck accident lawyer.
Truck Drivers
Just like any other traffic accident, the first place to look for liability is the driver who caused the crash. If a truck driver was driving negligently–speeding, driving while intoxicated, driving while drowsy, driving while texting or otherwise distracted, etc.–then that trucker may be individually responsible for any harm resulting from an accident they cause. Truckers who operate as independent contractors or who own their own shipping service may be solely liable for any accidents they cause.
Freight Companies
Many truckers are commercial drivers who work for freight companies. When an employee causes an accident while performing their job duties, then the company that employs them may be held "vicariously liable" for any damage caused by the employee. Vicarious liability means that you hold the employer responsible for the actions of the employee.
Additionally, the actions of the freight company itself may have contributed to the accident. Freight companies must follow specific safety regulations concerning truck maintenance, truck safety devices, loading standards, safety training, and driver hours of operation. If a shipping company fails to train its employees properly, fails to install appropriate safety devices, lets the trucks in its fleet fall into disrepair, or otherwise fails in its duties, then the company may be directly liable for any resulting accident. If their failures are egregious and pervasive, then punitive damages may even be available.
Third-Party Contractors
Traffic accident injury claims involving large trucks are often complicated by the number of parties involved in a given delivery. In addition to the trucking company and the truck driver, freight companies often rely on third parties for a variety of services including packing, loading, and maintenance. If a third party was responsible for loading a truck, for example, and they load the truck improperly, the truck is more likely to get into an accident. Imbalanced loads, unsecured loads, or overly heavy loads can cause a truck to be unstable, prone to tipping, lack control with turning or stopping, and generally be more prone to crashing or causing a crash. An unsecured load might even fall off the back of a truck and cause a crash. In such a case, a plaintiff may need to bring claims against the trucking company as well as any other parties involved in getting the haul on the road.
Truck Manufacturers
Even if everyone involved in the training, loading, and driving of a truck were behaving responsibly, an accident can still occur. If an accident is caused by a defective truck part–the brakes, the engine, the trailer coupling, the load straps, the tires, etc.–then the manufacturer of that part may be liable for the resulting injury.
GET HELP WITH YOUR MARTINSBURG LARGE TRUCK ACCIDENT CLAIM
If you or someone you care about has been hurt in a crash with a large truck in West Virginia, call the passionate and dedicated Martinsburg personal injury attorneys Burke, Schultz, Harman & Jenkinson at 304-263-0900 or (304) LAWYERS for a free consultation.