The Undisclosed Dangers of Vaping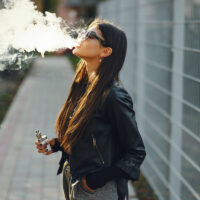 Smoking electronic cigarettes, or "vaping," has become increasingly popular in recent years.  Many see vaping products, such as those sold by the company Juul, to be a healthier alternative to traditional cigarettes.  A host of lawsuits around the country against e-cigarette companies have alleged that vaping products are less healthy than advertised and that these companies have inappropriately marketed their products towards impressionable teens.  Read on to learn about the allegations in these lawsuits, and contact a seasoned West Virginia product liability attorney if a dangerous or defective product has harmed you or a loved one.
Vaping linked to lung disease, preventable deaths
According to statistics from the Centers for Disease Control and Prevention (CDC), there are at least 1,500 cases of serious lung disease and 33 deaths linked to vaping across the U.S.  Plaintiffs around the country allege that companies such as Juul understate the addictive quality of their products, marketing them as safer alternatives to cigarettes when in fact they deliver higher doses of addictive nicotine.  Some lawsuits also claim that vaping products carry other underplayed dangers, such as the risk of lung disease, stroke, and seizures. 
Many of these individual lawsuits have been consolidated into class actions or multi-district litigation.  Lawyers have brought a class action in West Virginia based on allegations that Juul intentionally marketed its products to children and teens, reminiscent of claims previously brought against the tobacco industry.
Juul and other companies target teens
Concerned parents around the country have filed lawsuits against industry-leader Juul as well as Altria Group Inc., the maker of Marlboro cigarettes which owns a minority stake in Juul, for marketing practices aimed at hooking teens on their vaping products.  Young adults and parents of e-cigarette smokers claim that they were induced into smoking the often sweet-flavored products by Juul's marketing practices, leading to serious nicotine addiction. 
Their marketing appears to have worked.  According to reports from NPR, the number of teens who vape doubled between 2017 and 2018 and continued to rise in 2019.  According to a survey, 25 percent of teens admitted to having vaped within the previous month. 
Juul reached a settlement in one of the major class actions targeting its marketing practices.  The settled case was brought in California.  According to the terms of the settlement, Juul can no longer advertise at sporting events or concerts that allow people under the age of 21 to attend. Additionally, Juul cannot advertise its products at schools or use models in its ads that are under age 28.
WEST VIRGINIA DEFECTIVE PRODUCT LAWYERS
If you or a loved one has been injured due to a defective product in West Virginia, contact the dedicated and effective Martinsburg personal injury attorneys Burke, Schultz, Harman & Jenkinson at 304-263-0900 or (304) LAWYERS for a free consultation.