West Virginia Crash Caused by Construction Company With History of Crashes, Violations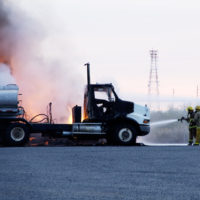 A water tanker truck recently caused a multiple-vehicle crash leading to the deaths of two Harrison County locals. According to a report by The Exponent Telegram, the company operating the truck has been involved in a series of accidents since at least November. Continue reading to learn about the accidents, and contact our experienced truck accident attorneys if you are injured in a West Virginia trucking accident.
Water tanker crashes, killing two
According to the Harrison County Sheriff's Department, three dump trucks and two passenger cars were in the right lane heading eastbound on Route 50 at the West Virginia 98 traffic signal, while another passenger car and truck were in the left lane. All were waiting for the light to turn green when a water tanker crashed into the rear-most car, a Mitsubishi, crushing it between the tanker and the dump truck in front if it. The other cars were caught in the chain reaction crash caused by the collision. The two occupants of the Mitsubishi, a 48-year-old-man and his 17-year-old daughter, were killed. Five other participants were sent to nearby hospitals for treatment, but all suffered from non-serious injuries.
Construction company involved in multiple crashes and violations in the last six months
The water tanker that caused the crash was operated by a Maryland construction company. A different driver for the same construction company was involved in two crashes earlier this year: In March, he crashed a semi-trailer on Rock Run Road, careening off the road after crashing into a bridge rail. He pleaded no contest to a charge of failure to maintain control and was fined around $20. In June, he was driving a single-unit truck when he veered off Route 50, hit a guardrail fence, and drove into an embankment. According to The Exponent Telegram, that same driver pleaded guilty to possession of a Schedule III controlled substance in June 2017.
In recent months, trucks operated by the same company had been issued citations for driving without an updated registration or license plate, distracted driving (eating) and "running across white line," operating without the required operating authority, and for not having a fuel tax decal on several occasions.
If you or a loved one has been injured by a truck driver in West Virginia, contact the experienced and effective Martinsburg personal injury lawyers at Burke, Schultz, Harman & Jenkinson for a free case evaluation at 304-263-0900 or (304) LAWYERS.