Wet Weather Results in Tractor-Trailer Rollover and Pileup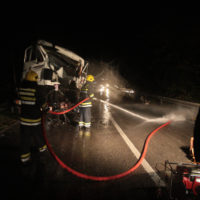 Driving in springtime's wet weather brings certain risks for West Virginia drivers. While driving on wet roads can be dangerous for even the average passenger vehicle, large commercial vehicles such as buses, tractor-trailers, and 18 wheelers are even more susceptible to losing control in the rain, and are capable of doing even more damage when they do. A recent local incident is an example of the harm that can stem from the combined effects of wet roads and large vehicles.
Local truck rollover on Interstate 81
On a recent rainy day during evening rush hour, a tractor-trailer driver lost control of his vehicle on Interstate 81, just north of the Falling Waters and Marlow exit on the southbound side. As a result of the loss of control, the tractor-trailer rolled over. When the wet weather made it impossible for cars approaching the scene of the accident to come to a stop in time, there was a four-vehicle pile-up. One victim of the series of accidents was taken to the Berkeley County Medical Center for treatment.
Rainy weather can wreak havoc for trucks
Wet weather has a major effect on road safety for all vehicles, but especially for massive big rigs and tractor-trailers. The average passenger vehicle weighs between 2,000 and 5,000 lbs. In contrast, a fully-loaded tractor trailer can weigh some 80,000 lbs. This massive difference in weight means that a semi-truck traveling at interstate speeds requires far more time to come to a complete stop than a car or light truck; by some estimates, large trucks will travel another 625 feet down the road between the point when the driver recognizes a hazard and is able to stop the vehicle.
Large trucks require excellent traction with the road beneath them to maintain control. If water or ice on the roadway diminishes that traction, trucks can begin to hydroplane. Hydroplaning prevents drivers from controlling the speed or direction of their vehicles, which can result in roll-overs, jackknifing, or driving into oncoming traffic. It is critical that carrier companies ensure that their vehicles are well-maintained before sending them out onto the road, including by replacing worn or cracked tires or brake systems. These companies must also train their drivers thoroughly on safe driving in wet conditions. Should a driver or carrier fail to uphold their legal duty to prepare vehicles and drivers for inclement weather, they may bear liability in court for accidents resulting in injuries to other drivers.
If you've been injured in a crash with a semi-truck, big rig, or tractor-trailer in West Virginia, contact the dedicated and aggressive Martinsburg personal injury lawyers at Burke, Schultz, Harman & Jenkinson for a consultation at 304-263-0900.