What to Do Immediately After a Car Accident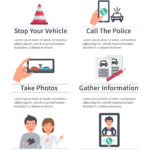 After you're in a wreck, it can be difficult to know just what to do first. Your nerves are shaken, and you or your passenger may have sustained injuries in the crash. If you're physically able, there are six things you should do in the minutes, hours and days after an accident to ensure that you're able to recover the compensation you're owed for your injuries. Read on to learn more.
What to do immediately after a car accident?
Seek medical attention: Even if it isn't the first thing you do after a crash, the most important thing to do after an accident is to see a doctor. There are certain injuries which may not feel serious at first but can become more problematic over time. If you fail to seek treatment immediately after the accident, you may have a hard time proving that your injuries were related to your accident, rather than something that happened after the accident that would not be covered by your accident claim.
Report the accident: Under the laws of West Virginia, parties to an accident are required to report accidents which cause damage to an apparent extent of $1,000 or more or result in personal injury or death. Report the accident to local police if the accident incurred in a municipality, or state troopers if your accident happened in an in unincorporated area. Your insurer may also require you to submit a police report to support your claim for damages, and an objective police report could help support your version of events.
Document the scene of the accident: Take as many photos as you can of the position of the cars, any skid marks on the road, and where debris from the car landed. These photos can serve as valuable evidence in recreating the accident and showing who was at fault for the crash.
Get witness information: Speak with anyone who may be nearby who saw the crash and obtain their contact information, in case you need the support of eyewitness testimony to support your claims.
Speak with us: Before discussing your accident with the at-fault party's insurance company, call US!  We can handle many of the details so you can focus on getting well.
Don't rush into a settlement: The insurance carrier will likely try to settle with you as soon as possible after your accident, before you understand the full value of your claims or have had the chance to speak with a lawyer. They know you need cash fast after an accident, and will thus try to offer you a lowball settlement to resolve the claim quickly. Before accepting such an offer, or even making a statement to an insurer, speak with an attorney about the true value of your claim and the future costs you can anticipate incurring as a result of your injuries.
If you or someone you love has been injured in a car accident in West Virginia, make sure you're fully compensated for your medical expenses, lost work, and pain and suffering by contacting the experienced and determined Martinsburg personal injury attorneys at Burke, Schultz, Harman & Jenkinson for a free consultation on your case, at 304-263-0900.