Where Do Most Car Accidents Occur?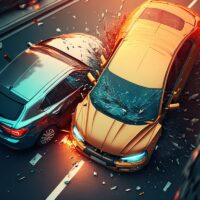 You probably already know what times car accidents are more likely to happen: nights, weekends, holidays, bad weather. These periods hold the increased likelihood of drunk or drowsy drivers on the road, or adverse conditions that reduce visibility or the ability to maintain control of a vehicle. But aside from the question of when car accidents are likely to occur, what about where they happen? Are the odds of getting into a wreck greater in some places than others? That's what we'll look at here. If you've been injured in a crash with a negligent driver in West Virginia, call the Martinsburg personal injury lawyers at Burke, Schultz, Harman & Jenkinson for help getting medical care and compensation for your injuries.
Urban Areas
West Virginia is the third-most rural state in the nation in terms of the percentage of the population living in rural areas, rural population density and rural land area. Even so, West Virginia has ten metropolitan statistical areas and 50 urban areas according to the U.S. Census Bureau. If you happen to live in one of these urbanized areas or urban clusters, know that urban areas see more car accidents than rural ones. The reasons may sound obvious. More people live in urban areas. There are more vehicles, and the traffic is denser. Urban areas experience rush hour stop-and-go traffic with plenty of opportunities for crashes with negligent, distracted or aggressive drivers. There is also a greater mix of vehicle types in these areas, including cars, trucks, bicycles, electric scooters, and Uber and Lyft drivers, not to mention pedestrians. Traffic in urban areas is more complex than in rural areas, leading to a greater frequency of car accidents there.
Rural Roads
Although the greatest number of overall crashes happen in urban areas, rural roads experience more fatal wrecks as well as more nonfatal but catastrophic injury accidents. Rural roads don't see a large number of rear-end collisions in stop-and-go traffic; you won't see minor fender benders from cars pulling out into traffic at low speed. What you do see, though, are high-speed collisions on open stretches of road. Rural roads in West Virginia are also often built over mountainous terrain. There are no streetlights on rural highways, making it harder to see at night. Drivers are also more likely to drive faster, more carelessly or recklessly, and with less attention in rural areas than in urban ones. The risk of a crash caused by wild animals darting into the road is also considerably greater in rural areas.
Accidents Close to Home
Just like a lot of slip and fall accidents happen in the home because people spend a lot of their time at home, more car crashes happen within five miles of the accident victim's home than further away. No matter how long a trip is or how far away, every trip begins and ends at home. Shorter trips are more common than longer ones, such as quick trips to the store, when people might be in a hurry with a lot on their minds and not entirely focused on the task of driving. People also tend to be less attentive to their surroundings when driving the same routes in familiar areas, putting their minds on "autopilot" and thinking about other things while letting "muscle memory" do the driving. People are also more likely to be tired or intoxicated when driving home, further increasing the likelihood of crashes in their neighborhood or close by.
Intersections
Whether urban or rural, intersections are the most common place for accidents to occur. Another dangerous place involves entering and exiting roads between intersections, especially in rural areas with low visibility due to hills or bends, but also in urban areas where people may be pulling out from side streets or parking lots where parked cars on the street block their visibility to oncoming traffic.
Dangerous Roads in the Eastern Panhandle
Sadly, West Virginia is not known for having well-maintained roads. Additionally, many roads are built to adapt to the natural topography, with narrow lanes hugging mountains on one side and cliffs and drop-offs on the other. To make matters worse, West Virginia receives more than its fair share of inclement weather throughout the year. Given all of these factors combined, West Virginia drivers need to be sober, alert and cautious at all times, but too often, too many drivers aren't. Motorists drive too fast for conditions, they get behind the wheel when they are tired or have had too much to drink, or they spend more time looking at their phones than the road ahead. These behaviors are dangerous anywhere, but they are especially hazardous on the mountainous terrain in the Eastern Panhandle.
Of these roads, I-81 in Martinsburg between exits 8 and 13 is historically the deadliest and most dangerous stretch of road in the state. Other dangerous roads in the Eastern Panhandle and lower Shenandoah Valley include WV-9 near Hedgesville between Log Home Drive and Rumbling Rock Road, US-340 in Charles Town between WV-9 and Shoreline Drive, and back to I-81 near Martinsburg again, this time between Exit 8 and Henshaw Road.
Get Help After a Car Accident in Martinsburg, West Virginia
If you or a loved one has been hurt in a car accident in West Virginia, get help from the seasoned and dedicated Martinsburg personal injury attorneys of Burke, Schultz, Harman & Jenkinson by calling 304-263-0900 or (304) LAWYERS for a free consultation.