West Virginia Yellow Light Law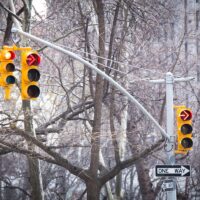 Across the United States, red lights mean stop and green lights mean go. Oddly, however, the exact meaning of a yellow light can vary by state. In some states, yellow lights might simply mean "exercise caution," while in others they might mean stop unless you cannot safely do so before entering the intersection. Continue reading to learn about the precise requirements when you approach a yellow traffic light in West Virginia. If you or someone you care about has been hurt in a West Virginia car accident, call a seasoned Martinsburg traffic accident lawyer.
What Does a Solid Yellow Light Mean?
In West Virginia, a solid red light means "stop." A solid green light means "check your surroundings, then proceed." According to West Virginia law, a solid yellow light means the following:
A "red or 'stop' signal will be exhibited immediately thereafter"
When the red light appears, no vehicle should enter or be crossing the intersection
Pedestrians are advised that they do not have sufficient time to cross the roadway, and any pedestrian who starts to cross on yellow must yield the right-of-way to all vehicles
There are a few interesting factors hidden in West Virginia's yellow light law. First of all, pedestrians who enter the crosswalk on a yellow light lose the right of way. They must yield to other vehicles. Pedestrians who are hit while crossing on a yellow (and subsequently, a red) will have a tougher time proving liability.
Secondly, unlike some states, West Virginia law does not make it illegal to enter an intersection while the light is yellow. Instead, the yellow light simply warns that a red light is impending. However, the law specifically says that no vehicle should enter "or be crossing the intersection" when the red light appears. That means that any driver unsure as to whether they have time to cross while the light stays yellow should likely stop, so long as it is safe to do so, rather than enter the intersection. If a driver enters an intersection during a yellow light and the light suddenly changes to red, that driver could be liable for an accident that occurs involving cross-traffic with a green light.
Flashing Yellow Light
In West Virginia law, a flashing yellow light means that "drivers of vehicles may proceed through the intersection or past the signal only with caution." Drivers approaching a flashing yellow light should take extra care to observe their surroundings and react appropriately, but they do not necessarily need to stop before entering the intersection.
HELP WITH YOUR MARTINSBURG CAR ACCIDENT INJURY CLAIM
If you or someone you care about has been hurt by a negligent driver in West Virginia, call the passionate and trial-ready Martinsburg personal injury attorneys Burke, Schultz, Harman & Jenkinson at 304-263-0900 or (304) LAWYERS for a free consultation.