Martinsburg Man Killed in Motorcycle Accident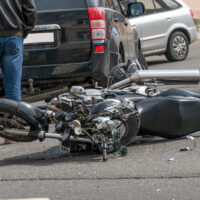 A crash involving a motorcycle and another vehicle resulted in a fatality on a recent Wednesday night.  We previously discussed the alarming spate of motorcycle accidents in recent years in West Virginia and across the country.  Learn about the details of the accident below, and contact a West Virginia motorcycle accident attorney if you or a loved one has been injured in a motorcycle crash.
Two-vehicle crash kills motorcyclist in Martinsburg
A 22-year-old young man from Martinsburg was driving a passenger car southbound on Rock Cliff Drive at around 7 p.m. on a recent Wednesday night.  At around the 800 block of Rock Cliff, just north of Tavern Road, he veered across the center line and struck a motorcycle head-on that was going northbound.  A 64-year-old Martinsburg man was driving the motorcycle.  The younger passenger car driver was evaluated at the scene for injuries but not taken to a hospital. 
The motorcycle rider, on the other hand, was ejected from his bike.  He was taken to Berkeley Medical Center, where he eventually succumbed to his injuries and passed away.  As of this writing, the police were still investigating the circumstances of the accident, and no charges had yet been filed.        
Motorcycle fatalities remain a problem in West Virginia
As we have said before, motorcycles are inherently more dangerous than passenger vehicles;  motorcycle accident victims are 28 times more likely to die in a crash than automobile accident victims.  Moreover, West Virginia's motorcycle-based fatality rate is significantly higher than the national average.  Each year, West Virginia sees 2.06 motorcycle crash fatalities per 100,000 population, well above the national average of 1.60 per 100,000 people. 
Safety advocates note that there is a strong association between wearing a helmet and reducing the severity of accidents.  Over 21 percent of riders who died in accidents were not wearing a helmet at the time of the crash.  Helmet use is mandatory under West Virginia state law for motorcycle riders.  Reports also show that nearly a third of fatal motorcycle crash victims have a blood alcohol content of 0.01 or higher, indicating a strong correlation between at least some level of intoxication and fatal crashes, even for riders who do not exceed the legal limit.
Call Our Martinsburg Injury Attorneys for Help After a West Virginia Motorcycle Accident
If you or a loved one has been injured in a motorcycle crash in West Virginia, contact the dedicated and experienced Martinsburg personal injury attorneys at Burke, Schultz, Harman & Jenkinson at 304-263-0900 or (304) LAWYERS for a free consultation.